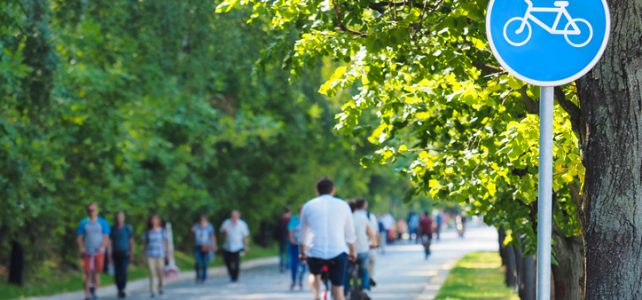 Kennett Square Receives Grant for Public Greenways and Trail Restoration
Kennett Square, Pennsylvania, has long been a vibrant, lovely place to live and visit, with plenty of wide open, green spaces, tree-lined streets, parks, and other opportunities for outdoor recreation. Now, thanks to a generous grant, Kennett Square is about to get a little greener, and it's going to offer even more incredible amenities to its residents.
The borough of Kennett Square has announced it has received a $125,000 grant from the Greenways, Trails, and Recreation Program (GTRP). It's exciting news for residents of this close-knit community who enjoy getting fresh air and exercise in the great outdoors.
Major project in the works
The generous grant will be used to create and improve Red Clay Park. In April of 2022, it was announced that Red Clay Park would be created out of 30 acres of green space in the eastern part of Kennett Square. The tract of land extends from Kennett High School to Anson B. Nixon Park, with Race Street serving as its western boundary and Walnut and Dalmatian Streets bordering the land to the east. This tract of land has long had gravel pathways across land owned by multiple parties, both public and private. In 2020, the owners began to collaborate on a project that would see the land turned into Red Clay Park.
(302) 472-7212

Call to Inquire about Kennett Pointe Town Homes

An initial $800,000 investment got the project off the ground, and now, with the additional $125,000 grant, the stakeholders can further improve the area. The funds are expected to be used to transform a 33,000-square foot parcel on the property into a recreational amenity. The project will involve developing access to Red Clay Creek and building new sections of the trail, complete with picnic tables.
As part of the overall Red Clay Park project, the stakeholders will use some of the funds for environmental restoration efforts. The streambanks will be stabilized, and a reforestation initiative will be launched to prevent erosion. In addition, invasive species in the area will be removed.
Kennett Greenway provides incredible amenities to residents
The Red Clay Park project is just one step in a larger redevelopment and improvement project taking place in the Kennett Greenway, which is a 14-mile loop of bicycle and pedestrian trails. When the project is complete, those using the Greenway will have easy access to points of interest along the loop, including nature-watching spots and local businesses/services.
(302) 472-7212

Call to Inquire about Kennett Pointe Town Homes

Ready to check out new townhomes for sale in Kennett Square, PA?
If you love the idea of living close to nature and are excited about all of the other amenities that Kennett Square has to offer (like fine dining, fun activities, and close proximity to Philly), then perhaps it's time to consider moving to this beautiful corner of America.
Montchanin Builders proudly presents new construction homes near Kennett Square in the newly built community of Kennett Pointe. This exclusive community features luxury townhomes with spacious and modern floor plans. Contact us today to schedule a viewing of our beautiful homes and find out for yourself why Kennett Square residents love this hidden gem of a town.