Top 5 Restaurants to Enjoy Thanksgiving in the Wilmington Area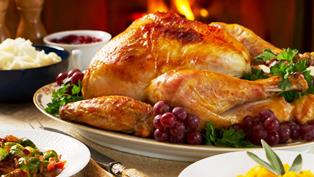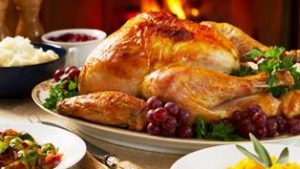 Roasted turkey, stuffing, cranberry sauce and the smorgasbord of sides. If the mere thought of preparing a huge holiday feast has got you down, it may be time for someone else to do the cooking! This year, why not eat out? Or order a fully prepared traditional turkey take-home dinner from one of the area's top restaurants?
Just because you don't have the time or the inclination to cook this holiday doesn't mean you can't enjoy an authentic, delicious Turkey day meal. Call one of these Wilmington-area restaurants and make your Thanksgiving dinner reservations soon – these tend to go fast!
Brasserie Grill at the Wilmington Hilton
This venerable Wilmington establishment promises a Thanksgiving Holiday Buffet brimming with your favorite traditional dishes, spiced up with some super elegant fare. Guests can expect a delightful menu including She Crab Bisque, Pickled Peach and Grilled Chicken Salad, Roasted Suckling Pig with Pineapple BBQ and a buffet station piled high with Sautéed Pesto Shrimp with Lobster Tortellini and Yukon Gold Mashed Potatoes with Gravy. The buffet runs from 11AM to 5PM and the prices are reasonably set at $44.95 for adults and $16.95 for children 12 and under. Kids under 4 eat free!
Columbus Inn
The Columbus Inn is proud to host their 4th annual Thanksgiving dinner, with all entrees and side dishes served family-style!  The 4-course menu features the comfort food you've come to love, including green bean casserole, mashed sweet potatoes, and of course, a perfectly roasted turkey. Share a meal with your loved ones in the cozy comfort of this Inn. Cost: $48 adult and $24 children ages 4-10.
Sullivan's Steakhouse
This year, reserve your Turkey day feast online at Wilmington's most celebrated steakhouse. Tuck into classic Thanksgiving fare, with your choice of starters, side dishes and desserts. The menu does not disappoint! Roasted Turkey with Sweet Onion Apple-Sage Stuffing, Gravy and Cranberry Relish is complemented by your choice of sweet potato casserole with pecan crust, steakhouse skillet mushrooms and Brussel sprouts with caramelized onions. But be sure to save room for dessert, with pumpkin pie, cheesecake, chocolate pecan pie and bananas foster on offer. 
Brandywine Prime in Chadds Ford
Brandywine Prime will serve their 3-course Turkey Day menu from 2PM to 7:30PM, with a focus on fresh, locally-sourced and organic fare. Tempt your palate with Roasted Butternut Squash Soup, a Fall Apple Salad with Manchego Cheese and Candied Walnuts, and a Roasted Organic Turkey with all the fixings! Prices are set at $32.95 per person, but kids 12 and under are welcome to a mini-turkey plate with mashed potatoes, green beans, stuffing and gravy for just $9.95.
Order your Thanksgiving meal to go
Want to dine in the comfort of your own home? The Pantry at Nage, in Rehoboth Beach, is presently taking orders for complete Thanksgiving feasts serving up to 10 people. The take-home turkey dinner package includes all the authentic sides, including made-from-scratch gravy and homemade cranberry sauce. Splurge for at least one of the desserts – our picks include the pumpkin layer cake with buttercream and the bourbon-pumpkin cheesecake.
Enjoying the holidays in Wilmington
Thanksgiving is the perfect holiday to spend time with those you love most. Montchanin Builders is proud to help families start making new memories and begin new traditions in the comfort of their new Delaware homes.
To learn more about our move-in ready homes in some of Delaware's most sought-after communities, please call our offices today at 302.376.1100.