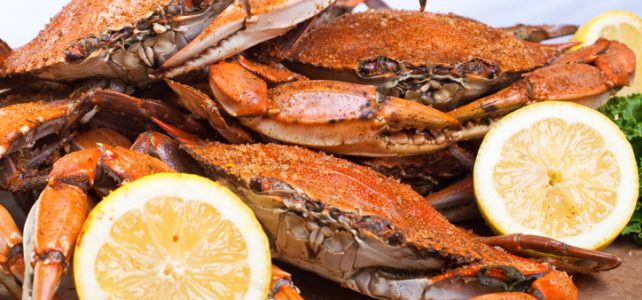 What Food Is Wilmington, Delaware Known For?
The First State is a hidden gem for foodies. Given that Delaware has a robust agricultural industry and plenty of coastline for snapping up fresh seafood, it shouldn't be a surprise that chefs in Wilmington take full advantage of the bounty produced here. If you're visiting Wilmington or thinking of moving to the area, here's a look at some must-try dishes that this region is famous for.
Capriotti's Bobbie
You'll find many iconic Delawarean foods throughout the state, but the one that originated from right here in Wilmington is the Bobbie. Originally created by the chefs at Capriotti's Sandwich Shop in Wilmington, the Bobbie is a Thanksgiving feast on a submarine roll. Voted "The Greatest Sandwich in America," the Bobbie is stuffed with slow-roasted turkey smothered in cranberry sauce and topped with handmade stuffing and mayo. Thanks to Capriotti's, Wilmington residents can cure their cravings for Thanksgiving feasts any time of the year.
In recent years, Capriotti's has expanded well beyond Wilmington. You can find these delightful sandwich shops throughout the country.
(302) 472-7212

Call for More Information About Luxury Town Homes In Wilmington, DE

Blue Crabs
As a coastal state, it isn't surprising that seafood would comprise one of the iconic foods of Delaware. Wilmington residents love fresh blue crabs served up as is with seasoning or cooked into delectable dishes like crab bisque, crab cakes, pasta, and other dishes. If you want to cook crabs at home, you can find them at many markets in the area. Wilmington's specialty seafood market is Sansone's Seafood Market, which you can find at 7th and Lincoln. Note their restricted Sunday hours. You can also request a delivery for a small fee.
If you can't quite make Sansone's hours, head over to nearby Newport. The Chesapeake Crab Co. obtains crabs straight from the docks and offers them for sale live or cooked. Or, if you'd rather enjoy a restaurant atmosphere, check out the Crafty Crab Seafood restaurant on S. Walnut Street in Wilmington. You can choose from boiled or fried crabs with your choice of seasoning and level of spiciness.
Grotto Pizza
If it's pizza you're craving, Wilmington's most iconic pizza is undoubtedly Grotto Pizza. You'll find it at locations throughout Delaware, including Pennsylvania Ave. in Wilmington. Locals have been falling in love with their pies since 1960. Their famous pizza has a pleasantly thin crust, slightly sweet sauce, and a top-secret blend of cheeses. The traditional pizza is a must-try, but they also offer pies with delectable toppings like marinated spinach, feta cheese, and local mushrooms.
(302) 472-7212

Call Today for Details about our Barley Mill & Darley Green Community

Ready to explore new construction homes in New Castle County, Delaware?
Incredible food isn't all that Wilmington has to offer. When you decide to move to this vibrant area, you can enjoy exciting nightlife, fun outdoor excursions, nature trails, and so much more. Plus, all of Delaware offers tax-free shopping, both at boutique shops and high-end luxury shops! Ready to call Delaware home? Contact Montchanin Builders today to inquire about our luxury townhomes for sale in Wilmington, Delaware. Take a stroll through our luxurious, master-planned townhome communities of Darley Green in Wilmington and, just a skip away, The Townes at Barley Mill in Greenville. When you call to arrange a viewing of our beautifully crafted homes, be sure to ask us about our special financing arrangements.
Additional resources for Delaware residents
Capriotti's Sandwich Shop, https://capriottis.com/
Crafty Crab Seafood, https://www.craftycrabrestaurant.com/
Chesapeake Crab Co., https://www.chesapeakecrabco.com/
Sansone's Seafood Market, http://sansonesseafood.com/
Grotto Pizza, https://www.grottopizza.com/