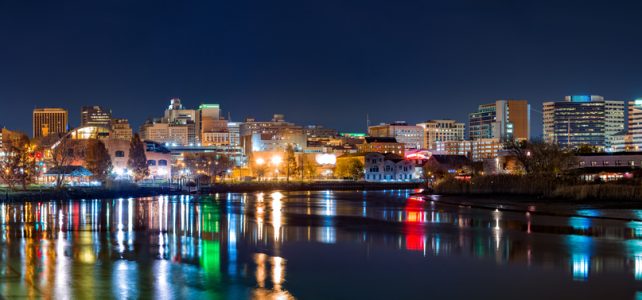 What Is Living in Wilmington, Delaware Like?
While Wilmington is the largest city in the state of Delaware, its population is only about 71,000. It's a vibrant but cozy city, sitting at the junction of the Brandywine and Christina Rivers. Wilmington's waterfront is a great place to walk, shop, eat, or take in a concert. The city brims with history, art, and culture. Its cost of living is considerably lower than other cities in the Northeast.
Location, Location, Location
The real estate mantra is especially applicable to Wilmington. Located just 33 miles from Philadelphia, Wilmington is one of the southernmost stops on that city's Southeastern Pennsylvania Transportation Authority (SEPTA) line. It is also served by Amtrak trains, making trips to Washington, D.C. or New York City easy and convenient. Wilmington is midway between these two large cities. Atlantic City is just a short drive over the Delaware Memorial Bridge, a few miles from Wilmington.
Wilmington's prime location contributes to its strong economy. Major employers include Christiana Health Care System, Delaware State University, Blackrock Capital Management, Wilmington Trust Corp,. AstraZeneca Pharmaceuticals, and Delmarva Power.
Cultural Treasures
Wilmington residents don't have to leave the state to find first-rate cultural treasures. In fact, they are surrounded by them. The Delaware Art Museum, the Delaware Contemporary, the Delaware Theater Company, the Riverfront Blues Festival and the Christina Cultural Arts Center are just a few samples of what Wilmington has to offer. The Delaware Art Museum is noted for its exquisite collection of pre-Raphaelite painting, as well as illustrations by its native son, Howard Pyle.
Not far away is the Winterthur Museum, Garden and Library, recognized as the finest collection of American decorative arts in the country. Set on a former DuPont estate, Winterthur boasts 1,000 acres of gardens, meadows, and forests.
Parks and Recreation
Find the 178-acre Brandywine Park in the heart of Wilmington. Along with nature trails and gardens, Brandywine Park features a sports stadium and a zoo. Cultural events are held here on a regular basis.
Wilmington State Park consists of 345 acres located along Brandywine Creek. Along with trails, visit historic sites within the park.
Small-Town Vibe, Big City Amenities
There's a reason homebuyers are flocking to townhomes for sale in Wilmington, Delaware. At Darley Green and The Townes at Barley Mill, you enjoy a small town vibe while being so close to big city amenities, attractions, and great dining.
Townhomes for Active Adults in Wilmington, Delaware
If you've been searching for the perfect new townhome community near Wilmington, DE, then Montchanin Builders is here to help. Our beautiful luxury townhomes at The Townes at Barley Mill have everything you've been searching for. That includes a great location, lots of space, and the top amenities every homebuyer wants. In addition, we offer financing options to help our customers purchase their dream homes. If you have any questions for us, our team would be happy to help! Contact us today and learn more about our master-planned communities and schedule a viewing.