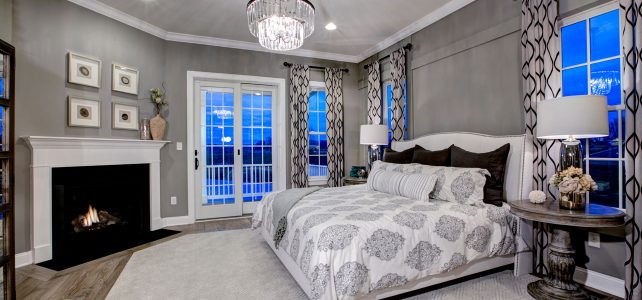 3 Great Bedroom Decorating Ideas
One of the fun aspects of buying your own townhome is that you can customize the interior however you wish. Want to recreate the distinctive looks of the 50s or 70s? Go for it! Want to paint a mural in your bedroom? No problem! Have fun with your interior design ambitions, and don't be afraid to think outside the box. The bedroom is the perfect place to experiment with new design concepts, since it's generally off-limits to guests. Here are a few ideas to inspire you.
Try an alternative to the traditional headboard
If you're trying for a traditional look, you could choose a large wooden or ornate metal headboard. But why not try something stylishly different? Use painter's tape to square off an area on the wall behind your bed and paint it a strikingly different color than the rest of the wall. Extend the painted edge to line up with the edge of your bed. Or, ditch the conventional headboard for a soothing work of art instead.
You can also play with shapes. Instead of a square block of painted wall or artwork behind your bed, you could nail up a circular, rustic-looking, woven sisal or hemp throw rug. To make this idea work, you'll have to find a visually intriguing rug with braided or woven textures. A similar headboard alternative is to lay a visually pleasing folding screen against the wall behind the bed.
Get creative with lighting fixtures
It's common for homeowners to allocate much of the lighting fixture budget for a fancy chandelier in the entryway, and for dramatic, statement lighting in the kitchen and dining room. The bedroom often gets shortchanged. It's time to change that. Look for truly unique ceiling lighting fixtures for your private sanctuary, like a fixture in the shape of a giant magnolia blossom, with elegant gunmetal-colored "petals." Or, if you're feeling regal, consider a ceiling light in the shape of a king's crown. There are virtually limitless options to choose from. Try browsing specialty lighting shops instead of big box stores.
Create an elegant sitting area
Another way to carve out a sanctuary in your townhome is by adding an elegant sitting area to the master bedroom. It's the perfect place to relax with a good book on a rainy Sunday. Pair a comfortable recliner with a small occasional table, and place both by the window. Then, add some items for décor, like a large potted plant in the corner and an oil painting on the opposite wall.
Check out these homes for sale in Wilmington, Delaware
Montchanin Builders is known for building elegant homes in Delaware. In addition to our Wilmington, DE single family homes, we're pleased to offer luxurious, yet affordable townhomes for sale in our planned communities. You can tour Darley Green or The Overlook at Rockford Falls today to find your beautiful new home. You can call 302.472.7212 for more information about our homes for sale in Wilmington, Delaware.
Additional resources about bedroom interior design:
Elle Décor, These Are the 25 Best Bedroom Décor Tips for an Impeccably-Styled Room, https://www.elledecor.com/design-decorate/room-ideas/tips/g596/10-things-bedroom-needs/
Good Housekeeping, 76 Bedroom Ideas, Decorating Tips and Decor Inspiration, https://www.goodhousekeeping.com/home/decorating-ideas/g770/decor-ideas-master-bedroom/