Beautiful and Budget-Friendly Bathroom Renovation Ideas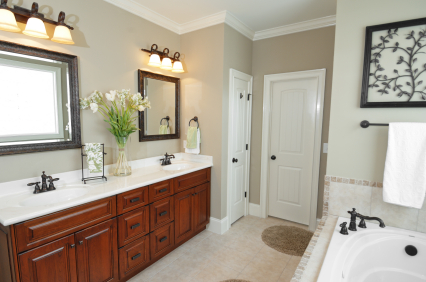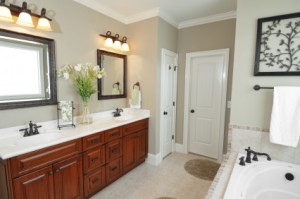 Renovating your bathroom is one of the surest ways to add value to your home. In fact, you can expect to recoup as much as 65 percent of the cost of your bathroom remodel when it's time to put your house on the market. The average bathroom remodel costs nearly $20,000, but it isn't always necessary to spend this much to get the look you want. By planning your renovation with a budget in mind, you might even be able to renovate other key areas of your home, such as the kitchen or outdoor living areas.
Here at Montchanin Builders in Delaware, our bathroom design experts bring their creativity and technical expertise to give each homeowner amazing results, regardless of their budget.
Update your lighting
New lighting fixtures are a quick, easy, and budget-friendly way to give new life to your bathroom. With the right lighting, you can make your bathroom look larger and more modern. Expecting a single lighting fixture to add both beauty and function is asking a lot. Instead, expect to install one central ceiling fixture, with secondary fixtures at key zones. The vanity is one place where you definitely don't want to skimp on lighting. Add contemporary wall sconces to either side of the vanity mirror, which will cast an even glow on your face and make grooming tasks easier. Position the center of each lighting fixture at about eye level.
Lighting in the shower is also essential, especially if you're still relying on a shower curtain instead of glass shower doors. Recessed lighting is ideal in this area. If you have enough space in your bathroom, you might add an accent light to put the spotlight on artwork or a tile wall mosaic.
Choose your central bathroom feature
Every well-designed bathroom should have a central feature that automatically draws the eye. A hot tub surrounded by greenery would do the trick, but this isn't necessarily budget-friendly. Instead, consider looking for a fabulous, vintage-style clawfoot tub. Or, you might prefer to put the bulk of your budget into a stylish vanity or seamless glass shower door. If you'd rather not upgrade the major features of your bathroom, consider investing in luxurious tile, perhaps with an elaborate floor or wall mosaic.
Add stylish bathroom storage options
Bathroom storage options abound at retail stores, but those cheap shelving units that fit over the toilet likely won't improve the aesthetic appeal of your bathroom. Instead, add value, function, and aesthetics by choosing built-in storage options. Tall towel cabinets are popular. Try to find one that matches your bathroom and has attached shelving to keep your odds and ends corralled. If you have separate "his" and "hers" mirrors, consider adding a slim, compact shelving unit between them. Improving the storage capability of your bathroom lets you keep clutter out of sight, which makes your bathroom look larger and more serene.
Whatever your style preferences are and no matter how large or small your budget is, the team of expert designers at Montchanin Builders can bring your vision to life. Renovating your bathroom is a smart way to get more out of your home, both in terms of home value and your current enjoyment of your personal sanctuary. Visit our design center or request a tour of our beautiful model homes to see for yourself why Montchanin Builders is the trusted name in home renovation in Delaware.
Additional "bathroom redesign on a budget" resources
Houzz, Built-ins Boost Storage in Small Bathrooms, http://www.houzz.com/ideabooks/1787399/list/built-ins-boost-storage-in-small-bathrooms
This Old House, A Lesson in Bathroom Lighting, https://www.thisoldhouse.com/ideas/lesson-bathroom-lighting