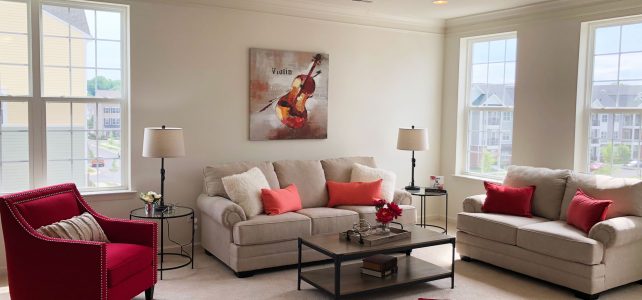 Color Therapy: What Colors Should You Paint Your Home?
If you rented an apartment or duplex for a long time, you probably dreamt of the day when you could paint the walls any color you wanted or install a custom, built-in entertainment center. Now that you're finally a homeowner, you can make those dreams a reality. However, the decision of which color to paint your home can be a difficult one. While you're comparing paint chip cards, consider factors like color psychology to choose an overall palette and the individual colors for each room.
Using color psychology in your home
Color psychology is based on the theory that color can affect your mood and emotions. Of course, some people react differently to various colors, but in general, the following colors may encourage positive emotions:
Blue: Blue is an exceptionally calming, therapeutic color. It works well in the bedroom or a living room. It's best to avoid blue walls in the kitchen and dining room, however, as blue can be an unappetizing color for some.
Yellow: Yellow is an eternally optimistic color that symbolizes summer and happiness. Strong yellow may feel overwhelming at times, but pale yellow is pleasingly sunny.
Purple: Bright and dark purples signify creativity and luxury. Pale lilacs can be soothing. Purple is best used as an accent color, since it's rare in the natural world and may seem "forced" if used extensively.
Green: Green is considered very visually restful, particularly the darker shades. Light green can be refreshing.
Red: Red is an energetic and stimulating color. It works well in areas where you'll be entertaining guests, such as the dining room.
How to use a color wheel
You should be able to find color wheels at your local home improvement store, or you can find one online. The color wheel should ideally show color relationships so that you can see which colors will complement each other. If you choose any color, its complementary color lies opposite it on the wheel. For best results, pick one of the two to be the dominant color. For example, pair a dark violet with a light, mild yellow.
Work backwards from a focal point
It's customary to choose an overall color palette first, and then paint the walls and choose finishing touches (like couch pillows and throw rugs) that conform to that palette. However, you could also work backwards. Select a focal point for the room first. In your bedroom, it might be a brightly colored bedspread. In the living room, it might be a stunning piece of art or your favorite sofa. Use the colors in that focal point to provide inspiration for your wall colors.
New houses for sale in Wilmington, DE
If you're house hunting around the Wilmington, Delaware area, we invite you to check out the beautiful new construction houses available from Montchanin Builders. Nestled within the walkable communities of Darley Green and The Overlook at Rockford Falls, these move-in ready homes feature modern floor plans and luxurious features—all at affordable price points. Get in touch today to learn more about our new houses for sale in Wilmington DE, or to schedule a viewing. Don't forget to ask us about our special financing incentives!
Additional resources on home décor:
The Spruce, Tips for Choosing Interior Paint Colors, https://www.thespruce.com/choosing-interior-paint-colors-4011484
This Old House, Choose Paint Colors With a Color Wheel, https://www.thisoldhouse.com/ideas/choose-paint-colors-color-wheel