What Comes First… The Landscape or the House?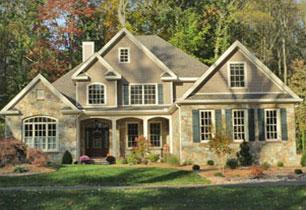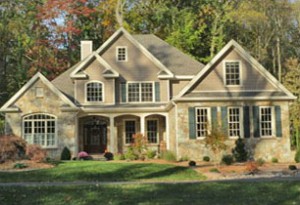 It's the home construction version of the age old question "What comes first? The chicken or the egg?" Instead, it's "What comes first? The landscape or the house?" Probably the best answer is that the house and its landscape should exist in relation to each other and to its owner. That way the two elements of house and land will mesh together over time bringing great satisfaction to its owner as the years go by.
Good custom home builders ask the right questions
When smart custom home builders in Delaware like Montchanin Builders visit an owner's site for a new project, they will plan on how the new home will exist in reference to its surroundings. Where is the water source? Are there wet and dry areas? What are the contours of the property? Can they be improved? How does the sun move across the landscape? Where are the best views? Are there mature plantings already in place?
The house is built in relation to the land, taking its best attributes and creating a home that incorporates the wish list of its new owner. Does the new owner want an active indoor/outdoor lifestyle? That may mean areas for a pool, patios, spa, and outdoor dining. If the owner is a good cook who loves to entertain, it may mean a sophisticated outdoor kitchen setup with room for dining and gathering of friends and family. Should there be room for a garden? If an owner wants a decidedly lower maintenance lifestyle, a landscape may include a smaller lawn area to take care of and more patio area, trees, even a free growing meadow.
Delaware home renovation plans include a fresh look at landscaping
The best-thought out designs are when a custom home builder and its landscaping team develop plans for a house and its exterior setting together. The same goes for an owner looking for a Delaware home renovation plan where the home exists in an already mature landscape. The owner may be considering a renovation that calls for more integration between the interior and the exterior of the home. For example, an expanded kitchen or family room that opens to the outdoors will need new landscaping to accommodate the change in flow from indoors to out.
What about a new deck or patio? The trend to indoor/outdoor living expands the idea of what a traditional backyard has always been. Fully equipped outdoor cooking areas with appliances worthy of any top kitchen, bars, fire pits, and spacious and luxurious entertaining areas are rapidly becoming a new standard for the well-dressed home.
Top Delaware home renovation contractors like Montchanin Builders have seasoned experts in both interior renovation and landscaping to integrate these changes for style and function.
If you're looking to redo your current landscape, this may also be the perfect time to have Montchanin's master craftsmen take a look at some home renovation projects you've been putting off. Our home renovation and landscaping teams can coordinate their efforts for a seamless and efficient work schedule that accommodates the needs of you and your family.
Contact leading custom home builders in Delaware
If you own or are looking for a site on which to build a new custom home, call one of the most highly regarded home builders and renovators in Delaware for their expert insight on how your land and home can be designed together for style, longevity, and function. 
Additionally, if you're in the market for a new home within a planned community, call 302-472-7213 to speak with a representative from Montchanin Builders to arrange your free consultation.