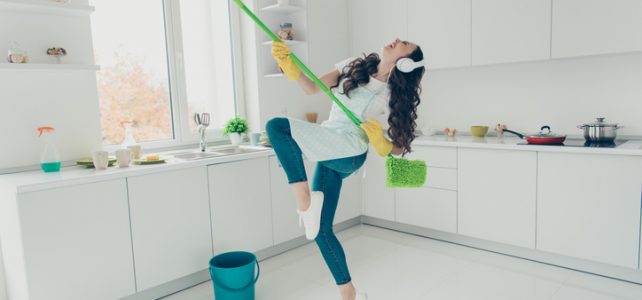 Get Your Spring Cleaning Done Early: Here's How to Start
Some spring cleaning projects may require warmer weather, but you can easily tackle many of the tasks on your list while the days are still chilly and shorter. Take the time now to check these tasks off your spring cleaning list and spend the first days of warm weather outside enjoying the sunshine.
Surface clean
It might be difficult (and distracting) to scrub the backsplash when dishes are in the sink or touch up your floorboards with dirty laundry scattered everywhere. Start each spring cleaning session with a quick tidying up to get the small things out of the way so you can focus on the big stuff.
Declutter
It's easy for clutter to build up in the different areas of your home—paperwork in the office, old clothes in the closet, that weird dish set your aunt gifted to you three holidays ago. On those especially cold winter weekends, work on filing important paperwork or donating those clothes that have been sitting in the back of your closet all winter.
Clean the linens
When's the last time you've cleaned your curtains? The couch cushions? The dog bed? Start the laundry loads one category at a time, washing comforters, decorative pillowcases, and table clothes that have been collecting dust and germs all winter. You can keep the loads rotating while you work on other chores, or free yourself of the task by dropping them off at your local laundromat.
Wipe it down
You have a load in the laundry, and everything is in its proper place. Now, start the wipe down, moving room to room. Scrub the mirrors in the bedrooms, the backsplash in the kitchen, and the grout in the bathroom. Be sure to get the top of the fridge, ceiling fans, window sills, tall shelves, and other items that don't usually make your daily chores list.
Scrub the floors
Now that you've pushed the dust from the shelves to the floors, it's time to work your way down. Grab your mop bucket and hand brushes to get deep into corners and grouts. Tip—use shoe polish to brighten stained grout. You can also finally put those extra vacuum heads to use and pull up dirt, hair, and grime that's gotten trapped at the edges of your carpet.
Get the vents and furnace, too
You can dust, sweep, and mop all you want, but if you aren't cleaning out your vents and changing the filters on your furnace, you're just circulating that dirt and dust into other parts of your home. If your heating or cooling unit is older, it's a good time to get them checked professionally, too.
Are you adding house-hunting to your spring to-do list?
Whether you're looking to buy your first home or want to move on from an aging house, adding "house-hunting" to your spring to-do list will help move you in the right direction! We invite you to schedule a viewing of the luxurious and affordable move-in ready homes available from Montchanin Builders. Take advantage of contemporary open floor plans, personalized design features, and competitive pricing. Don't forget to ask about the attractive financing options offered by our celebrated lending partner, Cardinal Financial.
To view magnificent new homes for sale in Wilmington, Delaware, call today to schedule an appointment!