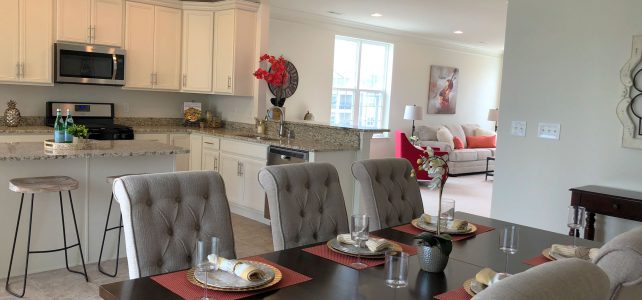 How to Add Color to Your Kitchen
The kitchen is the symbolic soul of your home. It's where guests gather to chat, and where family members reconnect after a long day at work or school. You can brighten up any gathering by designing your new townhome's kitchen with bold splashes of color. It all starts with customizing your kitchen with aesthetically pleasing additions, like the backsplash, countertops, and cabinets. Then, bring in your own personal style with less permanent additions.
Personalize your granite or quartz countertops
If you've just purchased your new townhome in Wilmington, DE from Montchanin Builders, you have the option to personalize your kitchen countertops. Choose from a variety of colors of granite or Corian Quartz. Usually, interior designers recommend choosing countertops before other features, as it can be easier to match cabinets and backsplashes to the countertop.
If your style is modern, consider selecting white granite or quartz countertops. Although white itself isn't a bold color, it does give you plenty of leeway. Use it as a background to add bold colors elsewhere. Black countertops are also popular, or you could break the mold by going with a mossy, earthy green.
Choose a bold, vibrant backsplash
Montchanin Builders also has a variety of decorative backsplashes to choose from for your new townhome. When matching your backsplash to your countertops, pick out the highlights of color that are similar to your countertops. For instance, your granite countertops might have veins of blue-gray or specks of warm gold. Look for a backsplash that also features these colors.
Personalize your cabinets
Cabinets can be tricky. If you're going for a traditional look, you might want to stick with a darker, rich wood color. But if you have a modern style, consider choosing a painted cabinet. The two-toned cabinet trend is quite popular these days, and you can use it to showcase a bold color without overwhelming the kitchen. For example, you could have the perimeter cabinets painted a white and the upper cabinets painted a dark gray.
Add living decorations to your kitchen
No kitchen is truly complete without living greenery. Consider installing a vertical herb garden on the pantry door. You can purchase the structural elements pre-made or take a DIY approach—just check Pinterest and YouTube for ideas. Install some small hanging planters in the window over the kitchen sink, or add a few small succulents to the window ledge.
Add seasonal decorations
Seasonal decorations give you plenty of flexibility, since by nature, they're intended to be swapped out and replaced periodically. In the summer, place a bowl of bright citrus fruits on the countertop. Winter is the perfect time of year to use fresh red cranberries as a decorative piece.
Montchanin Builders brings together unmatched aesthetics and precision craftsmanship in our custom homes. We're known throughout Delaware for our beautifully designed neighborhoods. Our new townhomes for sale in Wilmington, DE are available in The Overlook at Rockford Falls and Darley Green. Call us today at 302.472.7212.
Additional resources for townhome owners
Houzz, How to Choose a Backsplash for Your Granite Counters, https://www.houzz.com/ideabooks/53449216/list/how-to-choose-a-backsplash-for-your-granite-counters
The Spruce, How to Choose the Best Colors for Granite Countertops, https://www.thespruce.com/choose-best-colors-for-granite-countertops-4100988