Top Home Renovations for Spring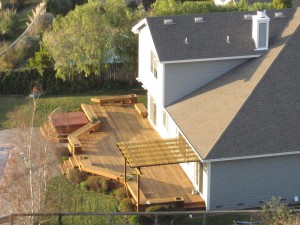 As spring ushers in warmer weather, home owners invariably start considering home improvement projects they've been putting off all year. The snow and ice is finally gone, the temperatures are mild and it's the perfect time to consider a makeover (or two!) that can really add value and personal enjoyment to your abode.
If you're in need of some expert guidance on your fair-weather home improvement projects, look no further than Montchanin Builders – a respected Delaware home renovation contractor. Our team leverages a combined 60 years of experience serving the residents of Wilmington, Delaware County and neighboring Pennsylvania.
The following three projects are ideal for a spring home makeover, and many are improvements that will make your home much more appealing for future buyers.
Build a deck
Get ready for summertime BBQs and outdoor entertaining with a beautiful deck. Decks offer an inviting space for socializing and dining al fresco, and compared to other types of home renovations, deck additions can be very affordable. Besides being a cost-effective project, deck installations increase the amount of useable outdoor space. Choose between a wide selection of pressure treated woods, composite materials, tiles, and eco-friendly decking made from reclaimed and recycled materials. If you're working within a tight budget, your contractor can suggest the best plan that will accommodate your wishes, without sacrificing on aesthetics or safety.
Upgrade your siding
Years of harsh winter weather can do serious damage to vinyl siding. If your current home has weathered or broken siding, an upgrade can work wonders for enhancing the overall appearance of your home. This is a relatively minor spring remodel, and can help if you're planning on selling your property anytime soon. The first step is having your siding professionally inspected. If an upgrade is warranted, your best bet is some of the newer vinyl siding that is energy efficient and extremely weather-resistant.
Spruce up kitchen cabinets
While kitchen remodels are some of the most popular and rewarding projects for homeowners, some residents may not be ready for such a hefty investment. One of this year's most trendy home improvements for spring is revamping your kitchen cabinetry. This can be done with brand new, custom-built cabinets made with your choice of wood and finish, or simply replacing knobs and pulls for a fresh look at a low cost. Changing out all hardware for decorative metal and ceramic cabinet pulls can have a nice effect until you're ready to take the plunge.  If you're interested in a total kitchen remodel, Montchanin's skilled contractors can design and build your dream kitchen, complete with new cabinets, an island, and all of the luxurious details that will turn your kitchen into the focal point of your home.
Home renovation experts in Delaware
From garage renovations and kitchen remodels to custom deck building, Montchanin Builders is your source for quality craftsmanship and first rate customer service. Remodeling and renovation projects can be overwhelming when undertaken alone. Put your trust in veteran home improvement professionals who can ensure that your project turns out exactly as planned, and is delivered on-time and on-budget.
Call Montchanin Builders at 302-472-7213 to learn more about our construction management services in DE or contact us online!