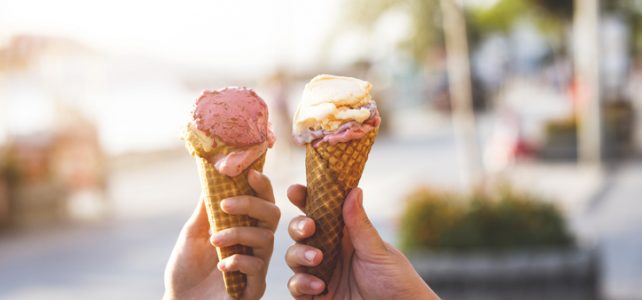 Best Places to Get Ice Cream in Kennett Square
When the mercury soars, there's no better way to cool down than with a frosty, delicious ice cream cone or shake. If you live in Kennett Square, PA, there are multiple ice cream shops nearby where you can find the real stuff—homemade, small batch ice cream with flavors both traditional and inventive enough to please even the pickiest of palates.
La Michoacana Homemade Ice Cream
If you're in the mood for a cone that's off the beaten path, set your GPS to La Michoacana at 231 State Street in Kennett Square. This Mexican fusion ice cream parlor serves up tropical flavors in cones, cups, shakes, and sundaes. They have more than 75 flavors, with 35 flavors available on any given day. Their menu includes:
avocado
guava
mango
cinnamon churro
pineapple sorbet
and strawberry margarita.
They also have dairy-free flavors. Try your treat with a sprinkle of chili powder or cajeta (Mexican caramel).
(302) 472-7212

Call to Inquire about Kennett Pointe Town Homes

La Bamba Ice Cream and Snacks
You'll find La Bamba Ice Cream and Snacks on W. Cypress St. in Kennett Square. You can sample inventive frozen creations within a fun, friendly atmosphere. La Bamba emphasizes quality and flavor in their homemade treats. If you swing by for lunch, you'll love their limited assortment of Mexican appetizers and entrees, but the ice cream is clearly the big draw here.
Try tropical flavors like toasted coconut, mango, or banana in a waffle bowl, churro cup, banana split, cone, or popsicle.
The Creamery of Kennett Square
Locals love The Creamery on Birch Street. It's housed in the original Eastern Condensed Milk Company building, established in 1902 and meticulously renovated in 2016. The Creamery is the place to be for live entertainment and amazing food. Enjoy lunch or dinner, then head over to the onsite Creamery Ice Cream Truck, offering shakes and cones with a rotating menu of flavors.
Despite the name of The Creamery, they don't actually make their own homemade ice cream onsite. Rather, they source their frozen treats from nearby Woodside Farm Creamery in Hockessin, DE. All of Woodside's ice cream is homemade in small batches. Their ice cream menu features all of the flavors you'd expect to find, like chocolate chip cookie dough, chocolate, and chocolate peanut butter, plus some unexpected flavors, such as lemon coconut, bacon (as seen on Food Network's "Unwrapped"), and motor oil (coffee ice cream with caramel and fudge swirls).
(302) 472-7212

Call Today for Details about our Kennett Pointe Community

View new townhomes for sale in Kennett Square, PA
When you move to our Kennett Pointe community of townhomes, having fantastic ice cream shops nearby is just one of the many reasons you'll fall in love with your new neighborhood. The newest master-planned community from Montchanin Builders, Kennett Pointe is beautifully designed with outdoor gathering spaces, walking trails, shops, and other local businesses. Our new construction homes near Kennett Square offer space-expanding options, like a finished basement with walk-out or even a loft. Call Montchanin Builders today to request a viewing and inquire about special financing programs.