Delaware Bathroom Renovation: Five Leading Trends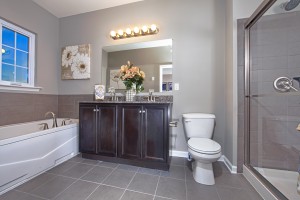 There was a time when bathroom design was an afterthought compared to the renovation of more public areas of one's home, like the living or dining rooms. In today's world, however, many homeowners are beginning to see the bathroom as a place of private refuge, not just for "washing up," but for quiet and reflection, for relaxation, or for personal entertainment at the end of a long day.
If you are considering a Delaware bathroom renovation, Montchanin Builders would like to introduce you to five significant trends in bathroom remodeling that will provide guidance for both stylish aesthetic renewal and smart, long-term design for your bathroom.
Five trends to look for in Delaware bathroom renovation
Universal design: It would be a great shame to pour resources into the bathroom of your dreams only to find that limitations of age or illness prevent you or your partner from enjoying it. Universal design refers to the practice of designing a space that is useful for everyone, no matter what physical limitations they may be experiencing. Rather than having to add unsightly features later, why not incorporate them into the bathroom design beautifully now? Montchanin Builders can build in tub or shower access, safety handles, easy to open or maneuver features, foldaway shower seats, and other facets of bathroom design that may be both beautiful and necessary in later years.
Water-saving features: At Montchanin Builders, our home renovation experts can install low-flow toilets, hands-free faucets, and water-saving showers that are easy on the environment without sacrificing the luxury you have been waiting for in your bathroom refuge. Ask our builders about the fixtures now available.
Hidden fixtures and storage: A well-designed modern bathroom can hide unsightly elements or tuck away storage that is not always needed in order to achieve a sleek, minimalist look. Ask our builders about such innovations as concealed toilets, tubs that double as tanning beds, and other ingenious design solutions.
Bold colors, textures, and patterns: Why be safe and conventional in the bathroom when it comes to colors and patterns? Surfaces of all kinds can be covered in decorative tiles or other materials that make use of bold and unusual patterns. Strongly contrasting colors in wall covering have also been embraced in recent design, though subtle but elegant looks are also available. The important consideration is that you not settle for boring; it's not "just" the bathroom!
High-tech: Do you want to watch high-definition TV while you bathe? Enjoy a state of the art stereo system while you shower? Need features such as refrigerated cabinets for beverages, medications, or specialized skin care products? Are you tempted by the high-tech toilet with aroma or temperature controls? Montchanin Builders can install any of these features in your dream bathroom!
Specialists in Delaware bathroom remodeling
No matter how modest or extensive your plans remodeling your bathroom, Montchanin Builders can help bring your plans from the idea stage to reality.
Let's discuss ideas together for your dream bathroom. To speak to the leaders in Delaware bathroom remodeling, contact us at 302-472-7213 or send an e-mail to info@montchaninbuilders.net.