Montchanin Homes Feature Latest Design Trends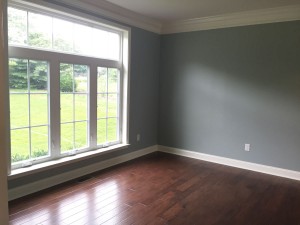 Though it is frequently overlooked as a small detail, the type and quality of interior trim can have a dramatic impact on the feel of your home – providing a sense of style and balance. Interior trim – including door casings, wainscoting, crown moldings, railings, and baseboards– offers not only a finished look, but it also helps spotlight architectural points of interest. Homebuyers can think of trim as a character-adding component, or as a picture frame that emphasizes the splendor of what's within.
In short, trim is a crucial design element that adds a sense of elegance and richness to a home. Whether you want to change the perception of a room's dimensions and shape, create the illusion of high ceilings or strong lines, trim gives you options to customize your vision of the perfect "space."
Importance of interior trim
Here at Montchanin Builders, our construction management team understands the aesthetic and functional role of design elements in our affordable family home communities. Most Wilmington residents are already familiar with the master-planned community of Darley Green, one of our flagship developments that invites homebuyers to accentuate their personal style with their choice of trim, cabinets, counters and flooring.
We are proud to continue a long-standing tradition of superior craftsmanship and interior design elements in the luxurious single-family estate homes in The Town of WhiteHall – one of the best walkable new home communities in Delaware (Middletown).  Modern floorplans promise a wide range of options when it comes to exterior and interior details – whether you prefer a classic look or the latest trends.
How trim can transform a room
Baseboards and paneling are so common that most homeowners don't pay it much attention. Consider that, just as paint color can transform the ambiance and appearance of a room, so too can molding elements and trim.
Most interior trim is made of solid wood, polyurethane or medium density fiberboard – giving you plenty of options when it comes to color (whether you paint or use a varnish), style and budget.
What style speaks to your personal taste? From Victorian to modern, trim can be used for many purposes; below are just a few:
Raise the roof – Want to create the illusion of a higher ceiling? Simply paint the crown molding along the perimeter of the ceiling a slightly darker hue. This effect will draw the eye upwards. Alternatively, you can install the door trim right up to the ceiling.
Make a space appear larger – Cramped rooms may benefit from trim that is painted a slightly lighter shade than the walls. This visual effect makes it seem like the walls are opening, adding more space to a small room.
Create an Old World look – If you fancy a colonial or Victorian style, try pairing an eggshell-colored wall with contrasting trim that is painted a muted sage green, mustard yellow or gray-blue.
Make a space more interesting – interior trim including picture rails and plate rails is a powerful design tool. By adding a trim line below the ceiling and above a window, you're adding interest and richness to a room.
Design experts at Montchanin home builders in Delaware bring in-depth knowledge to the table in all of our Delaware homes and residential building projects. For more information about The Town of Whitehall, or to schedule a home tour with one of our representatives, please call 302 655 2600.