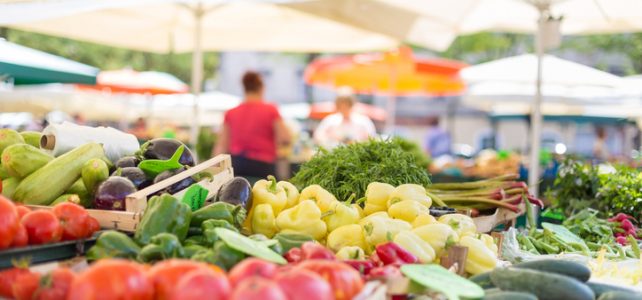 3 Best Farmers' Markets in Wilmington, Delaware
In the Wilmington, Delaware area, three bustling farmers' markets routinely bring the best of local agriculture to area residents. Shopping at a farmers' market is a great way to support local businesses while also getting access to fresh and delicious produce. There are plenty of good finds at the Delaware Avenue Farmers' Market, Bellefonte Farmers' Market, and the Highland Orchards Farm Market.
Delaware Avenue Farmers' Market
As its name suggests, this farmers' market is located on Delaware Avenue in Wilmington. It's open every summer from May through September on Thursdays from 4:00 PM to 7:00 PM. Be sure to check their website before you go, just in case their hours change from season to season.
Here, you'll find everything you'd expect in a community farmers' market, including fresh vegetables, herbs, and flowers. You'll also find pasture-raised meats like beef, pork, chicken, and lamb, as well as farm fresh eggs. Some vendors also offer baked goods, including homemade fudge, and specialty foods, including vegan and gluten-free options. At the Jack's Jams stand, look for their artisanal jams, pickles, and sauerkraut. Carol's Scents N'Soaps offers fine soaps and body products, and Gage Family Beekeeping has organic honey and more.
Bellefonte Farmers' Market
The Bellefonte Farmers' Market is located on Duncan Road in Wilmington, behind the Bellevue Community Center. While their hours are subject to change from year to year, they are generally open every Friday from June through September, with the potential for special events in October.
You'll find a wide assortment of local vendors here, including stands for fresh vegetables and fruits, and locally made products like baked goods and soaps. This farmers' market is particularly enticing for kids, as they often feature a giant, inflatable slide. You'll also find food trucks, music, and kids' activities, making this farmers' market more like a semi-permanent block party.
Highland Orchards Farm Market
Highland Orchards is a family-run farm on 1431 Foulk Rd in Wilmington, DE. Although this isn't a traditional farmers' market, it is a farm market with plenty of delicious choices. Look for fresh, seasonal, and pesticide-free vegetables and fruits. The selection is primarily sourced from Highland Orchards itself, although products from other, nearby farms are also available. They also offer a variety of dried goods and meats.
Love their selection? Become a CSA member! CSA stands for "community-sponsored agriculture," and the CSA program at Highlands Orchard allows you to sign up as a subscriber to receive a seasonal mix of produce on a weekly or bi-weekly basis. That means that every week you can get a customized mix of fruits and veggies you love, including eggplant, English peas, basil, cucumbers, tomatoes, blueberries, peaches, and much more. Additional options include meats, preserves, and baked goods.
Looking for new construction homes in New Castle County, Delaware?
Check out the exquisitely planned communities of Montchanin Builders, including The Overlook at Rockford Falls and Darley Green. Take advantage of the buyer-friendly Wilmington, DE real estate market and tour our exquisite, affordable move-in ready homes today. Our walkable neighborhoods are close to all the best that Delaware has to offer, including the vibrant farmers' market scene in the Wilmington area.
Contact Montchanin Builders today to request a viewing. Don't forget to ask us about our special financing offers!
Additional resources for Wilmington, DE farmers markets: