Best Places to Go Ice Skating in Wilmington DE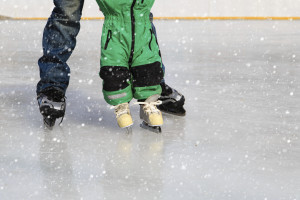 Once the snowflakes start swirling and the hot cocoa is poured, ice skating is one of the first activities that comes to mind for date night, family fun, or a wintry evening out with friends. Wilmington, Delaware has both indoor and outdoor ice skating facilities just a short drive from the Darley Green neighborhood in the thriving Claymont District.
Skating Club of Wilmington (Indoor)
Address: 1301 Carruthers Ln. Wilmington, DE 19803 (13 minute drive from Darley Green)
You don't have to be a member of the Skating Club of Wilmington to enjoy the sheet of ice year-round. The indoor rink is home to a hockey league, hockey camps, figure skating competitors, broomball league, and beginner skate lessons. The facility is also available to rent for a birthday, holiday, or corporate party. A snack shop provides food and beverages, and a pro shop sells equipment for the ice skating enthusiast. Public skating hours are: Wednesday evenings from 7:10-7:40, Friday evenings from 7:30 – 9:30, Saturdays from 3:15 – 5:15, and Sundays from 3:15 to 5:15. Call 302-656-5005 for details.
Horizon Riverfront Rink (Outdoor)
Address: 308 Justison St. Wilmington DE 19801 (16 minute drive from Darley Green)
In 2014, the Riverfront Development Corp of Delaware opened a scenic, seasonal 120 x 72-foot outdoor ice skating rink on the Wilmington Riverfront. The family attraction accommodates up to 350 skaters and is open from late November through February 28. The attraction features holiday decorations, twinkling lights, seasonal music, warming huts, skate rental, and concessions. Skaters pay a $5 admission (under 12) or an $8 admission (12+), plus $3 for skate rental if needed. Four-session skating lessons are available at 6 pm for a charge of $92 plus the skate rental fee and can be booked by emailing jsenn@riverfrontwilm.com. Rink hours are Monday through Thursday from 4 – 9 pm, Fridays from 4 – 10 pm, Saturdays from 11 am – 10 pm, and Sundays from 11 am – 9 pm. For more information, visit www.riverfrontrink.com.
Bellevue State Park (Outdoor)
Address: 800 Carr Rd. Wilmington, DE 19809 (8 minute drive from Darley Green)
Bellevue State Park has been nicknamed "a park for all seasons," with its fine tennis courts and horse stables in the summers and its frozen ice skating pond and snow-covered woodlands in the winters. Skaters must bring their own equipment but are free to skate and enjoy the breathtaking views of the Delaware River from 8 am until sunset, weather permitting. Call 302-761-6963 for details on current pond skating conditions.
Ice skating in Philadelphia
In addition to these three ice skating opportunities right here in Wilmington, Delaware, our residents also enjoy easy access to the skating facilities in Philadelphia, which are less than a 30-minute drive from Darley Green. Places like The Rothman Ice Rink at Dilworth Park (in the shadow of city hall), the Blue Cross RiverRink at Penn's Landing, the Laura Sims Skate House at Cobbs Creek, and Rizzo Rink are all worthy spots to check out this winter.
New homes in Wilmington, DE
Close proximity to all the best attractions Wilmington, DE and Philadelphia, PA have to offer is one of the main reasons buyers flock to the Darley Green master-planned community. They also like that our move-in ready townhomes and condos are designed with classical architecture and low-maintenance in mind, not to mention built to last! Call 302-655-2600 for a tour.