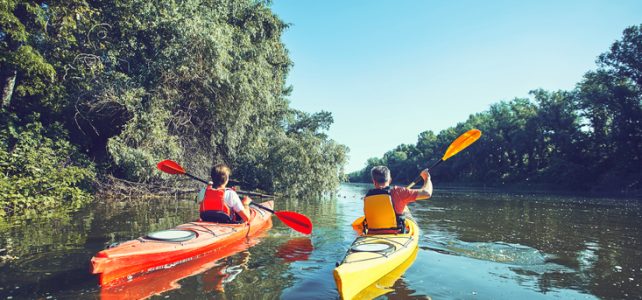 Best Wilmington, Delaware Outdoor Activities
One of the great advantages of living in Wilmington, Delaware, is that you not only get to enjoy all the perks and conveniences of a major city, but you can also partake in many amazing outdoor recreational activities. With so much to do, no wonder Wilmington is one of the hidden gems of America! From breathtaking sunset waterfront cruises to wilderness canoe trips on the Brandywine, here are some great ways to have lots of fun outdoors.
Take a relaxing river cruise at the Wilmington waterfront
The Coastal Enterprise Group administers the Delaware Cruises & Events at the Wilmington Riverfront. You can choose from a number of options, including the Scenic River Tours, Evening Skyline Cruises, and specialty-themed cruise events. All ages are welcome to enjoy this unique way to see the Christiana River and the city's skyline. Adults can take advantage of the full bar. The river tour company also offers chartered boat cruises for special events.
Enjoy a visit to the Brandywine Zoo
The Brandywine Zoo is a local favorite, with good reason. Located on the banks of the Brandywine River, this small zoo has been in operation since 1905. Because it has received accreditation and is a member of the Association of Zoos & Aquariums, you can feel good knowing that the animals are well taken care of. Enjoy seeing all sorts of species, including mammals, birds, invertebrates, and reptiles. Popular exhibits include the capybaras, Flemish giant rabbit, red pandas, and lemurs, as well as the prehensile-tailed skink and green tree python.
Get to know the Brandywine River via canoe, kayak, or tube
The Brandywine River is perfect for beginners who are interested in getting into canoeing, kayaking, or tubing. It's a meandering river with gently flowing water and stunning scenery. Spend a few hours or take a full day to get out in nature and get a little exercise while you're there. One of the watercraft companies in operation on the Brandywine is Wilderness Canoe Trips. They provide everything you'll need for a day on the water, including canoes, solo and tandem kayaks, and tubes, plus the essentials like paddles and life jackets. They also offer transportation up river, so there's no need for you to worry about parking one vehicle up river and one down river. Do note that reservations are required. It's a popular activity in Wilmington, so book well in advance!
Explore new homes for sale in Wilmington, Delaware
There is much to love about living in the Wilmington, Delaware area, and these fun outdoor activities are just the tip of the iceberg. From fine dining to excellent shopping, you'll never run out of things to do and see in the region. Take advantage of all that Delaware has to offer by planning your move to the area. Montchanin Builders is pleased to offer new homes in northern Delaware, including luxury townhomes in our master-planned communities of Darley Green and Barley Mill. Schedule a viewing today, and be sure to inquire about our special financing offers.