Delaware Residents Enjoy Events & Enrichment at The Claymont Library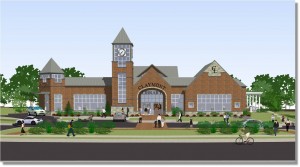 Delaware living in Darley Green gives you the arts right outside your doorstep. Our walkable community has all you need to live, work and play close to home. The Claymont Library is a focal point of arts and activities for our residents.
The state-of-the-art facility was opened in October 2013 as the "crown jewel" of the Claymont District renaissance.
About The Claymont Library
The Claymont Library at 400 Lenape Way is a beautiful, modern building set atop 7.5 acres of nature trails and gardens. Residents have access to a large collection of books spanning all ages and interests, CDs, DVDs, audiobooks, wireless internet, study and meeting rooms, idyllic outdoor reading spaces, dedicated spaces for children, computer rooms, knowledgeable librarians, and a drive-up window for easy returns. Each year, more than 100,000 people visit the library, with another 4,500 people participating in its various programs.
Services offered by the Claymont Library include:
Reference materials like newspapers, journals and magazines
Photocopier
Black & white printer
Children's story time
Teenage workshops
Adult-themed programs
Lectures from guest speakers
Performances by local artists
Book and Crochet clubs
Summer enrichment programming
The Claymont Library is closed on Sundays, but is open late (until 8 PM) on Mondays, Tuesdays and Thursdays.
Claymont Library upcoming events
Check out some of the stellar summer events planned for 2015:
July 14: Art Workshop – Painting with Acrylics
July 18: Creative Writing Workshop for Teens – "Fairy Tale Retelling: Old Tales in New Skins"
July 22: Activated Heroes Performance – Comedy, props and costumes bring stories to life
July 30: Delaware Natural Heroes – Delaware Natural History Museum tells stories of local heroes
August 5: The Earth on the Turtle's Back – Story time with Ashland Nature Center
Ongoing children's events this summer include:
PAWS For People – Provides the opportunity to improve skills by reading to trained companion dogs
Actor Concierge – Improves student self-confidence through improv acting and other fun exercises
Jitterbugs – Toddler singing, storytelling and acting program that instills a love of learning
Game Kinection – Teens and kids are invited to drop in to play X-Box video games
Teen Time – Ice-breakers and board games give local teens a chance to socialize
Summer Art Enrichment – Art activities designed for kids ages 5-12
Ongoing events this summer for adults include:
Crochet & Knitting Clubs – Bring your own needles and yarn, but learn new stitches with new friends
Lunch and Literature – Share your thoughts on a book you've read, with light refreshments
Adult Book Club – Join lively and entertaining book discussions
Darley Green residents have access to the following educational workshops this summer:
Write The Vision: Business Plan Basics (7/21, 8/18)
7 Cures For An Empty Bank Account (7/23)
Social Security: What You Need To Know To Maximize Your Retirement Income (7/23)
The Rich Money Club (8/3)
How To Use Your Network Marketing Business To Create Wealth (8/10)
How To Talk To Anyone About Anything (8/13)
Learn more about Delaware living
Owners of condos and townhomes in Darley Green enjoy the countless benefits of Delaware living, including access to the wonderful Claymont Library, which has become a pillar of community engagement. To learn more about Montchanin Builders' master planned community, please call 302-655-2600.