Enjoy the Splendor of the Holiday Season in Greater Wilmington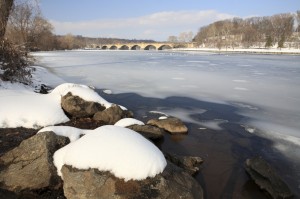 Few regions of the country combine historic charm, scenic beauty and graceful living as successfully as greater Wilmington and the Brandywine Valley. There may be no better time than to discover that fact than during the winter holiday season.
Visitors and residents alike will find a wealth of cultural offerings and seasonal delights that truly are a feast for the senses. If you are among those who want to make this charming, picturesque area your year-round reality and not just a yuletide jaunt, the Delaware construction management team at Montchanin Builders can help bring your vision to life.
Historical holiday magic abounds in greater Wilmington
To begin your foray into the magical holiday scenes of the greater Wilmington and Brandywine Valley areas, consider a visit to the Hagley Museum and Library for its beloved "Holidays at Hagley" exhibit. First settled by E.I. du Pont in 1802, the ancestral home of one of America's great industrial families is set to feature a dazzling array of holiday decor along with interpretive presentations of French holiday traditions including Twelfth Night and New Year's Day gift exchanges. Seasonal music and lighting create just the perfect ambiance for this journey back in time. The exhibit runs through January 6, 2015 and is included in the price of admission to the museum.
Thought by many to be among the world's most significant horticultural showpieces, Pierre Samuel du Pont's Longwood Gardens becomes even more breathtaking once the holiday season arrives. Until January 11, 2015, the indoor garden spaces will be filled with literally thousands of poinsettia plants, stunning blooms and spectacularly decorated Christmas trees at which visitors can marvel. The outside spaces are bedecked in over 400,000 individual LED bulbs alongside brilliant fountain displays and accompanied by festive, seasonal music.
For an additional dose of holiday grandeur, nothing rivals a visit to Winterthur Museum, Garden & Library for its yearly Yuletide exhibition and tour, running through January 4, 2015. The famed home of Henry Francis du Pont and site of the most renowned collection of early American furniture and decorative arts, Winterthur indisputably embodies holiday elegance at this time of year. Extravagant displays of floral arrangements, table settings, artwork, toys and other goodies help illustrate in great historical detail the ways in which the duPonts would have marked the holidays.
Those with a sentimental bent will not want to miss "A Brandywine Christmas," the much-loved exhibition hosted by the Brandywine River Museum in Chadds Ford, PA. Holiday guests will have an opportunity to gaze upon a seemingly endless collection of antique dolls, handcrafted animal ornaments and an O-gauge model railroad that runs almost 2,000 feet in length. With its picturesque location overlooking the Brandywine River, the museum is a must-see for history buffs as well as those who are simply nostalgic for a bit of old-fashioned Christmas magic.
Making Wilmington holiday magic last all year long
It is impossible to ignore all that the greater Wilmington and Brandywine Valley areas have to offer, not just during the holidays but all twelve months of the year. Its unrivaled recreational opportunities, historic character and logistical convenience both to Philadelphia and Washington, D.C. make the region a place just about anyone would love to call home. If you are among those interested in living the enviable lifestyle this community provides, you need to find a residence that suits your tastes, needs and budgetary priorities.
A truly full-service construction firm, Montchanin Builders has long been known for creating gracious condominium communities characterized by high-end design and floor plans sure to impress. Or, if you are considering options for home renovation in Delaware, we invite you to give us a call.
Alternatively, if you prefer a more customized approach, our team will work to design and build your residence from the ground up while providing a level of reliability and service unmatched in the industry. To begin the process of finding your ideal home in Delaware, contact us for a complimentary consultation by calling 302-472-7213.