Delaware Residents Rave Over Wine & Food Pairings at Domaine Hudson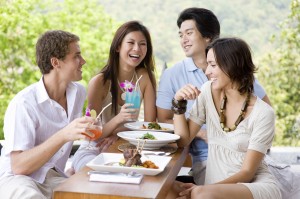 Access to gourmet eats is a substantial benefit of moving to new home communities in Delaware like Montchanin Builders' Darley Green.
You're within close proximity to the very best dining establishments Wilmington has to offer when you make our townhomes or condos your home.
We recommend lighting up your taste buds with porcini and black truffle tortellini, Wild Canadian lobster, seared Long Island duck breast, or a cheese board paired with wine at Domaine Hudson Wine Bar & Eatery at 1314 North Washington Street in downtown Wilmington.
Domaine Hudson wins media praise
The News Journal of Delaware recently featured Domaine Hudson Wine Bar & Eatery in a November 8th article. "Domaine Hudson is one of Delaware's must-visit restaurants, especially for wine lovers and those who appreciate impeccable service," the paper reports. The eatery has won the 2014 Opentable Diner's Choice Award for "Best Wine List," TripAdvisor's "Best Restaurant in Delaware" Award, and "Best Wine Bar" in the Delaware Reader's Choice Awards.
Residents of new home communities in Delaware enjoy gourmet cuisine
The "clubby," burgundy-colored dining room seats about 70, with additional space at the bar or in a private back room that seats 20. Diners choose from a wine list of more than 450 selections, with 40 wines available by the glass, or can opt for one of 40 plus beers. Whether you split the chef's tasting menu of six courses for $75 or choose larger portions at $44 for a three-course meal, you won't be disappointed.
Entrees are elegant, flavorful, and French-inspired, ranging from seared duck and juicy Canadian lobster to balsamic reduction steak and exotic escargot. Even the fresh-baked bread sparkles, with sweet sherry and tarragon-flavored whipped butter. The staunchest carnivores can't help but devour the braised artichokes, buttered turnips, grilled asparagus, and roasted Brussels sprouts. Desserts like vanilla-poached Bosc pears, espresso toffee pudding, and butter almond crème brûlée complete the sensory experience.
Condos for sale in Delaware convenient to Wilmington dining
There are plenty of establishments within walking distance of our classy Wilmington neighborhood; but if you're up for something a wee bit more upscale, you'll be happy to know that Domaine Hudson is a mere 13-minute drive from Darley Green's condos for sale in Delaware.
The spacious, affordable townhouses and condos offer discerning buyers a low-maintenance lifestyle with complimentary grounds maintenance and small-town charm with recreation and shops in walking distance.
Call 302-472-7213 to learn more about Montchanin Builders' array of luxurious but affordable move-in ready homes.