Longwood Gardens Christmas Display Dazzles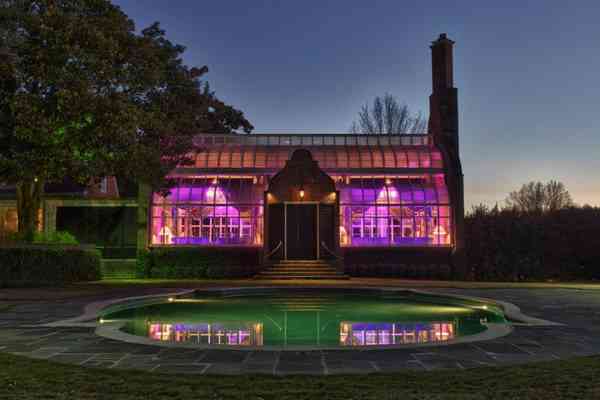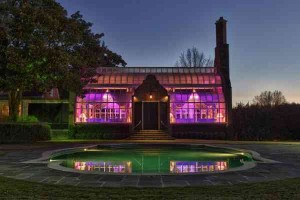 Generations of Delaware families have been enjoying the festive Christmas lights of Longwood Gardens – one of the area's most popular cultural and historic attractions. This year's holiday display, which runs through January 11, is adorned with more than 500,000 lights, and features a spectacular fountain show synchronized with traditional Christmas melodies. Without a doubt, the highlight of any visit to Longwood Gardens this time of year is an interactive tour through the four-acre conservatory, where visitors will discover some 16,000 types of plants such as amaryllis, lilies, poinettias and hydrangeas.
This year's merry scene is further punctuated by an otherworldly avian theme, with birds large and small swooping through the landscapes. Children stare in amazement at enormous swans looking out over the fern floor, brilliant cardinals with 30-inch wing spans and delicate German blown glass ornaments in the shape of our feathered friends.
New homes in Delaware close to Longwood holiday display
Glittering, feathered arrangements replete with faux branches, manzanita and ornaments welcome guests at Longwood as they enter this magical winter wonderland. In the distance lies a massive Douglas tree, standing 23 feet tall and festooned with flock to help anchor the cardinal ornaments. From the magnificent cardinal tree, visitors pass into the ethereal fern passages. Event designers placed curtains of lights from ceiling to floor, with lighted boxwood topiaries spanning the length of the room.
A pair of oversized swans crafted from preserved lemonleaf over metal stand at the opposite end of the room.  And at the other end of the fern passage the music room has been transformed into a fairylike peacock masquerade ball.  With the centerpiece designed by Melinda Swain, the decorations and art work simultaneously look like a hanging garden and jeweltone feathers.
Penguins created out of pine cones by artist Kat McCullough decorate the white tree in the silver room, where papier mache birds appear to slide down the rocks. In the heated conservatory, 12 children's trees – each decorated by different schools, including several from Delaware, are nestled among upcycled bird baths, crafted from cake plates and crystal bowls.
And Delaware families can't miss a set of trees near the north door that recount children's tales like the ugly duckling that turns into a swan, and the goose which lays the golden egg.
The Longwood Gardens holiday display is one of many traditional attractions in the greater Wilmington area. Other cherished events include A Hagley Christmas, A Brandywine Christmas at the Brandywine River Museum of Art and the Yuletide at Winterthur.
"…There's something for all ages. Most people like birds have had a very good reaction to birds and have a good memory of watching birds and feeding birds, so it's been very well received, and it was fun to do," explained  Jim Sutton, Longwood's display designer.
Montchanin Builders move-in ready homes
When you reside in Darley Green's new homes in Delaware – a short jaunt from the Brandywine Valley and Philadelphia attractions — you're in a prime location for living life to the fullest. Close to excellent public and private schools, the newly renovated Wilmington Riverfront and exciting sports and recreation, this master planned community is renowned for its beautiful townhomes and condos, open green areas and family-friendly atmosphere.
Learn why more savvy homebuyers are moving to Delaware's Claymont Renaissance District, and how Darley Green offers affordable luxury for the discriminating buyer. To schedule a tour, or talk about our new financing options, please drop us a line at 302-655-2600 or send an e-mail to info@montchaninbuilders.net.