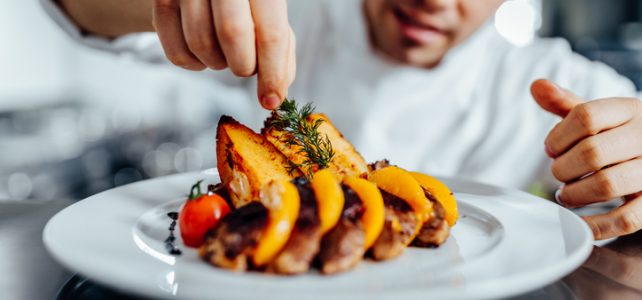 Top Foodie Hot Spots in Greenville, DE
You love trying new restaurants and shopping for hard-to-find gourmet ingredients in specialty markets. Your friends and family always know exactly what to give you for your birthday: the latest culinary gadget or cocktail-mixing equipment. For you, a meal isn't just a necessity: It's an experience. You're a proud foodie, and lucky for you, you're in good company in Greenville, Delaware. Check out these top foodie hot spots!
The Copper Dram
If you're a foodie living in Delaware, then a visit to The Copper Dram has got to be at the top of your list of must-visit restaurants. You'll find it at 3826 Kennett Pike in Greenville. The Copper Dram is a classy, yet friendly cocktail bar and restaurant that specializes in "expertly crafted cocktails" like the Southpaw Scofflaw and Aces & Eights. As impressive as their cocktail, wine, and beer lists are, many people come here just for the food alone.
Try starters like bacon-wrapped dates or lavish chip chicken nachos before moving on to the shrimp and mango salad. Their entrees are somewhat limited (sliders, tacos, and sandwiches), but they more than make up for it in quality. Try the chicken satay tacos and follow it with bourbon apple cakes for dessert.
Janssen's Market
Experiencing a meal out on the town is always fun, but sometimes foodies love to cook at home, too. Check out Janssen's Market at 3801 Kennett Pike in Greenville—just down the road a bit from The Copper Dram. In addition to the necessary staples you'd expect to find at a supermarket, Janssen's offers fine gourmet ingredients, including organic, gluten-free, kosher, and vegan foods. They have an impressive selection of fresh meats, cheeses, fresh produce, and much more!
Capers & Lemons Italian Restaurant & Market
Capers & Lemons Italian Restaurant & Market is a foodie's paradise. Located in Wilmington—just 10 minutes away from Greenville—this upscale restaurant specializes in modern spins on classic Italian dishes. Swing by for lunch or dinner and start with the fig flatbread paired with prosciutto and gorgonzola or the antipasti board. Then, choose from a delightful range of wood-fired pizzas or classic dishes like the chicken piccata or romano crusted chicken.
They also prepare unbelievable salads, like the Milanese salad with breaded chicken, pickled red onion, radicchio, arugula, pancetta, and buttermilk vinaigrette. The real star of the show, however, is their fresh, homemade pastas. Try the baked gnocchi or the mafalde puttanesca. If you've somehow managed to save room for dessert, try the tiramisu, gelato, or vanilla bean panna cotta with amarena cherries and toasted almonds.
Reservations are required and can usually be made online. If you have a party of more than five people, reservations by phone are requested. Before you leave, swing by their market to stock up on all of the fine Italian ingredients and kitchen essentials every foodie needs.
Explore town homes near Wegmans in Greenville, DE
If you're a foodie, you'll love moving to the newest master-planned community by Montchanin Builders. The Townes at Barley Mill is a beautiful, exclusive neighborhood of just 33 luxury town houses in Greenville, DE. Enjoy an open floor plan with up to 4,000 square feet of space to stretch out in, plus a gourmet kitchen with a 12-foot granite island where you can work your magic.
Source your high-quality ingredients from Delaware's first Wegmans, located right in Barley Mill for your convenience. Call Montchanin Builders today to schedule a viewing of our townhomes near Wegmans in Greenville, DE.