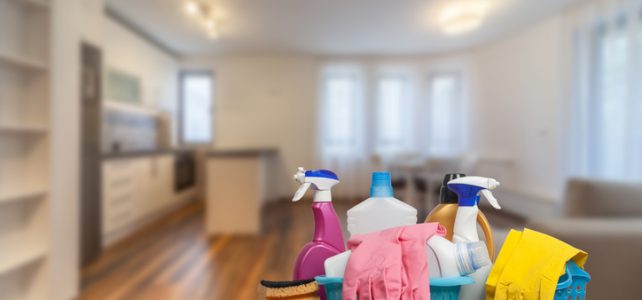 Essential Spring Cleaning Tips for New Homeowners
Spring cleaning is a long-standing tradition, dating back to when fuel-burning light and heat sources coated interior spaces with a layer of grime over a long winter. Back then, the change in weather was the ideal opportunity to give the entire home some much needed care. Today, spring cleaning still retains the spirit of renewal, encouraging a fresh start for a new season.
Spring Cleaning To-Do List
Cleaning your entire home can seem like an overwhelming task, especially for new homeowners who may be used to much smaller living spaces. This is a major reason why many people procrastinate when it comes to spring cleaning, or even avoid it entirely! As with most projects, the first step is the most important. First, create a list of priorities. You'll eventually want to cover every room in your home, but certain areas, such as the grout in the kitchen or bathtub, may need urgent attention and should be prioritized.
Get the Right Cleaning Products
The right cleaning products are essential to getting the best results, and taking a trip to the store to buy your favorite cleaning items can give you that much-needed motivation and confidence to help you tackle the project. Professional work such as carpet shampooing and hardwood floor restoration should also be scheduled in advance of your personal spring cleaning agenda.
One common mistake is failing to follow the instructions of cleaning products. Most high-strength cleaners require complete saturation of the surface, as well as time to let the solution settle. These products should always be used as directed.
Spring Cleaning Music Playlist
The uplifting effect of music has been demonstrated in a range of circumstances, from physical fitness to manual labor jobs, and a playlist packed with your favorite songs can help carry you through some of the more tedious moments of housecleaning.
Maximize Your Effort
Spring cleaning requires a significant commitment of time and resources, and so it is best to make the investment count as much as possible. A good way to do this is by taking on the more difficult jobs first. You might also want to prioritize areas of your home that do not get regular cleaning attention, such as the backs of closets, or the tops of fixtures. This will give you an immediate sense of accomplishment that can carry you through the less difficult chores.
Make Changes to Your Home's Decor
Spring cleaning is a perfect chance to re-evaluate the decor of your home as well. After month after month of short winter days, something as simple as replacing heavy winter linens such as curtains and comforters with lightweight and vibrant alternatives can instantly improve the feel of a space. Your closet and cabinets may also be in need of a good re-evaluation. Are you maximizing space? Are there any items that you are storing that can be disposed of to create space? You should consider finding a new home for any items that have remained unused for 6 months or more.
First-time home buyer in Wilmington, DE? Call Montchanin Builders
Spring is a time of restoration, and as the outdoors bloom with verdant leaves and colorful new flowers, your home should feel refreshed indoors. A thorough cleaning is also an excellent way to celebrate moving into a new home, getting the next chapter of your life as a Wilmington, Delaware first time home buyer off to a productive beginning. Contact Montchanin Builders today to schedule a tour of our new homes for sale in Delaware. Remember to ask about how you can receive up to $15,000 towards closing costs!
Additional resources:
Good Housekeeping, https://www.goodhousekeeping.com/home/cleaning/g3345/spring-cleaning-tips/