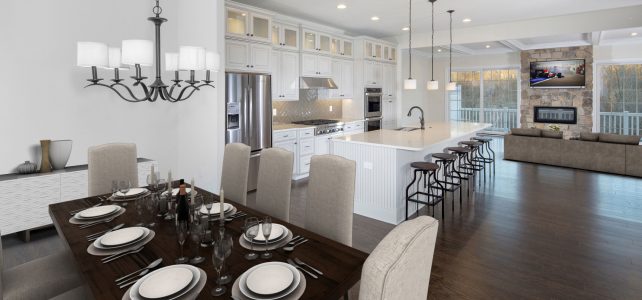 How to Get the Most Out of Virtual Home Tours
The COVID-19 pandemic has affected virtually every aspect of life—from how people work to how they purchase new homes. While in-person open houses may be on pause, the real estate market is still extremely active with virtual home tours. Get comprehensive tours of the best homes for sale in your area while you "shelter in place." Right now is an advantageous time to buy, as mortgage rates have dropped and so too have home prices, making it a buyer's market.
A look at virtual home tours
Virtual home tours have actually been a trend for a few years now. Realtors have relied on technology to entice homebuyers who might not live locally and who are unable to travel for the initial viewing. A 3D home tour enables you to develop a clear idea of what the home layout is like and which features it has.
While they aren't new, virtual home tours have been exploding in popularity since the stay-at-home orders went into effect during the COVID-19 crisis. They allow home buyers to safely view new options from the comfort of their own couches. Realtors and sales agents are also protected, as they can virtually connect with buyers to answer questions about the property.
Making the most of a virtual home tour
The YouTube channel of Montchanin Builders offers virtual home tours for various luxury model homes. These include the exquisite and innovative Maxwell Model, Emerson Model, and Carlyle Model at the master-planned community of Darley Green.
When you visit a model home in person, you'll ideally want to bring your camera (or cellphone with a camera) and a notebook. Take pictures of the rooms and features, and make notes about what you like and how you envision living there. For a virtual tour, making the most of your time requires a different approach.
First, view the entire virtual tour to get a sense of what the home is like. Then, pull up the model home's blueprint. You can easily view the blueprint or layout for Montchanin Builders' homes for sale in New Castle, Delaware, on our website. Split your screen so that you can view the virtual home tour and the blueprint side-by-side.
Virtual home tours in Wilmington, Delaware
Have any questions after viewing our Wilmington, Delaware virtual home tours? You can reach out to us at any time by phone or by filling out the quick contact form on our website. Although our Sales Centers and Decorated Models are temporarily closed, you can still drive through our lovely master-planned communities to see the beautiful home exteriors and landscaping. Imagine yourself in a Montchanin Builders home today!
Additional resources for home buyers: