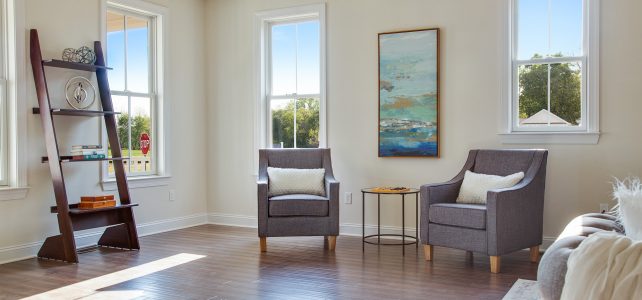 The Role of Natural Light in Choosing a New Home
There are so many factors home buyers look for when they're shopping around. A house is the biggest investment most families make, and so it makes sense to take your time and compare the details. If you're a first-time home buyer in Wilmington, Delaware, one of the factors you might want to consider is the amount of natural sunlight a house receives. Sunshine is so important for your overall health—plus, it improves the energy efficiency of the home!
Benefits of natural sunlight
There is plenty of scientific evidence to suggest that natural sunlight is beneficial for human health. Perhaps the most well-known benefit of sunlight is the vitamin D it produces in human bodies. Vitamin D is the only vitamin that can be synthesized through a photosynthetic reaction. It's essential for strong bones, cancer prevention, and heart health.
Even if you were already familiar with the benefits of the "sunshine vitamin," you might not have known that natural sunlight can make you more productive in the office. This is because sunlight is a key regulator of melatonin, a hormone. As sunlight enters the optic nerve, it triggers the cessation of melatonin production. When sunlight ceases entering the optic nerve, melatonin production begins again. This regulates the sleep-wake cycle. In other words, if you don't get enough natural sunlight during the day, you're more likely to suffer from daytime sleepiness and subsequently, poor work productivity.
Sunlight exposure triggers the production of another hormone, called serotonin. If serotonin levels are too low, people are at an increased risk of depressive disorders. In other words, living in a home with plenty of natural sunshine can help boost your mood.
Finding a home that optimizes natural sunlight
Now that you're familiar with the benefits of natural sunlight for your family's well-being, it's time to take a look at shopping for a home that maximizes light exposure. Perhaps the most important factor is the positioning of the house. Since the U.S. is in the northern hemisphere, all walls facing south will receive the most amount of sunlight throughout the day. Look for a home that places the longest wall facing south. Ideally, this wall would have few to no offsets.
The interior layout of the house can also play a role in optimizing natural light. It's a smart idea to put the rooms that receive the most daytime activity on the south-facing wall. And of course, that wall should ideally have lots of large windows. This is why architects often place bedrooms along the north-facing wall.
Homes for sale in Wilmington, Delaware 19806
Montchanin Builders embraces new concepts in home design and building, including the optimization of natural sunlight and the incorporation of energy-efficient features. Tour our walkable communities in Delaware today! Enjoy the tree-lined streets and wide open spaces of Darley Green. Tour The Overlook at Rockford Falls, which has a prime location near the Brandywine River, and easy access to state park land and walking trails. If you're looking for homes for sale in Wilmington, DE  and beyond, schedule a personal tour of our new homes for sale in Delaware by calling 302.472.7212.
Additional resources for home buyers
National Institutes of Health, Benefits of Sunlight: A Bright Spot for Human Health, https://www.ncbi.nlm.nih.gov/pmc/articles/PMC2290997/
Utah State University Extension, Designing Your Home for Maximum Natural Lighting, https://digitalcommons.usu.edu/cgi/viewcontent.cgi?article=2497&context=extension_curall