Montchanin Builders: The Right Delaware Kitchen Remodeling Contractor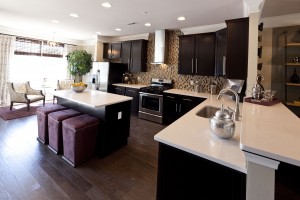 Choosing a contractor to complete your Delaware kitchen remodeling job is probably one of the biggest decisions you'll make. Who will do the best job, at the best price? Your kitchen is one of the central hubs of your home – where groceries are unpacked, dinners made, where family members spend time together. We understand there are many Delaware home improvement contractors to choose from, so we'd like to tell you why Montchanin Builders is the best choice for your needs.
Choosing Delaware home improvement contractors
If you're looking for Delaware home renovation contractors, you'll need to narrow down the field. This Old House recommends conducting phone interviews and asking questions like:
"Do you typically take on projects of this magnitude?"
"How busy is your schedule right now? Are you able to finish my job on a reasonable timeline?"
"How long have your subcontractors and employees worked for you?"
These questions will all help you estimate how smoothly the whole process will go and also give you a feel for our level of professionalism. After a phone interview, we typically will come out to your house to take a look at the space you need renovated. With your permission, we take photographs and take notes about your vision for the space. We can show you a portfolio of previous work we've done and answer any questions you may have about the whole process.
Often, the decision of who to choose for Delaware kitchen remodeling comes down to the rapport established during these home meet-and-greets.
Check out our credentials
Before committing, US News & World Report recommends doing background checks on remodeling contractors by:
Checking the Better Business Bureau website.
Reading reviews on Angie's List.
Confirming state licensing on the Contractors State Licensing Board website.
You'll find that Montchanin Builders is BBB accredited with an A rating and zero complaints. We maintain professional affiliation with the National Association of Home Builders (NAHB) and the Home Builders of Delaware Association.
We'd be happy to provide you with references, testimonials or client lists, upon request. Our reputation for superior service and customer satisfaction is renowned. Montchanin Builders has been featured on local media, as well as nationally syndicated HGTV programs.
We can work with budgets great and small, and provide honest estimates
Before the project begins, we'll give you a detailed proposal, with allowances for different aspect of the project. We are happy to discuss different options with you at any time during the remodel to help you get the look you want at a comfortable price. No matter what your style preferences or budget is, we will work tirelessly to find a way to make it happen.
Our top commitment is to make your whole kitchen remodeling process as hassle-free as possible. As a one-stop-shop for all things "kitchen," we can help you choose and execute the following elements of your remodel:
Appliances
Backsplashes
Cabinetry
Countertops
Drywall
Electrical
Energy Star
Fixtures
Flooring
Hardware
Islands
Lighting
Plumbing
Sinks
Imagine what a bother it would be to have to vet and hire separate contractors for plumbing, electrical work, woodworking, counters, floors, windows, and more! We've done all the legwork so you don't have to.
Our home remodeling crews are friendly and easy to work with!
A team manager will always be accessible to you with updates on the timeline and answers to your questions. Montchanin Builders Delaware kitchen remodeling contractors consist of reliable crews and skilled craftsmen who take great pride in the work that they do. Part of the fun will be visiting our Design Center for ideas on possibilities for your Delaware kitchen remodel. Of course, you may have a specific vision or photographs of your dream kitchen, and that's fine too!
Our home remodelers bring impressive credentials to the table – with decades of experience in home design and custom building. We keep current on all the latest design trends and top-rated brands of appliances, paints, cabinetry, flooring, and more. Our skilled contractors can lend their knowledge and experience to help make your decision a breeze.
Ready to get started?
Contact Montchanin Builders at 302-472-7213 to get the ball rolling on your Delaware kitchen remodeling project. We're eager to listen to your ideas and help you with all the intricacies of designing the perfect space for your family.
Resources: