Philadelphia Townhome Buyers Swayed By More Than Just Interest Rates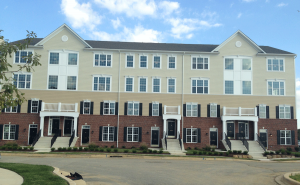 There's good news for people in the market for Philadelphia townhomes or single family residences: the 30-year fixed mortgage rate shouldn't break 5 percent this year. However, industry observers say there is more to a home buying decision than the interest rate.
"Consumer confidence and perception of the economy as a whole have a greater effect on residential real estate than whether the rates are at 4 or 6 percent," Jeff Block, a Berkshire Hathaway Realtor, told Philly.com. In fact, he said, the hottest market in the last decade corresponded with the highest interest rates.
Here at Montchanin Builders in nearby Delaware, we see a number of buyers from Philadelphia, whether the interest rates are high or low.
Why do people buy homes for sale in Philadelphia?
Greg McBride, a chief financial analyst at Bankrate.com, believes the mortgage rates will hover between 3.75 and 4.25 percent this year. The lower interest rates benefit first-time homebuyers most. "In many cases, interest rates may be the difference between renting and buying," explained Coldwell BankerAgent Frank Dolski. Similarly, this group may be motivated to jump into the housing market if they observe a slow-rising interest rate, fearing that they may be missing out on the best deals. A one-point interest hike may not seem like a big deal, but over a 30-year period, the principal and interest actually goes up by about 12 percent.
Other factors affecting home purchase habits include:
Downpayment requirements: In December, Fannie Mae and Freddie Mac announced a 3% down for qualified first time buyers.
Mortgage underwriting requirements: According to the "Mortgage Lender Sentiment" survey conducted by Fannie Mae, the number of lenders who have tightened their credit standards has dropped from 28 to 13 percent from the third to fourth quarter of 2014.
Household incomes: This has remained largely stagnant in 2014, with the median household income in Philadelphia County hovering around $37,192, according to the U.S. Census Bureau.
Consumer confidence: Nationally, consumer confidence hit an 11-year high this month, due to plunging gas prices and improved job markets. Retail data suggests a 3 percent jump in consumer spending this year.
Ultimately, job growth and increased incomes are needed to see a strong local real estate market as a whole, but we are seeing a steady stream of first time homebuyers with the means to purchase, especially when they see a great deal!
Looking at Philadelphia townhomes? Try Darley Green instead!
No matter what the interest rate may be, prospective buyers looking at Philadelphia real estate are attracted to Montchanin Builders' Darley Green neighborhood for access to tax-free shopping, close proximity to amenities, and to get more space for their dollar. Our Delaware townhomes, condos, and custom homes are sophisticated and stylish, with generous features like spacious walk-in closets, and up to 2,500 square feet of living space.
Located just 20 minutes from Philadelphia, our neighborhood is a convenient commute for anyone looking at homes for sale in Philadelphia, but considering other options. With no sales tax, no inheritance tax, no tax on social security benefits, reasonable property taxes, and a very modest state income tax, Delaware is among the five U.S. states with the lowest tax burden.
For more information about Darley Green's move-in ready homes, please contact Sales Manager Amy Maluski at 302.655.2600.