Philly Oktoberfest Celebrations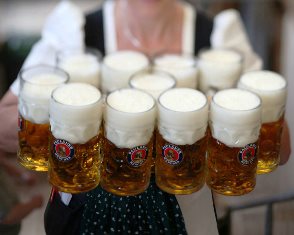 Fall is the perfect marriage of summer and winter; the scorching hot temperatures have subsided, but there's no need for a coat just yet. During this beautiful time of year, many of the residents of Darley Green and other communities in the Wilmington area enjoy taking weekend trips to Philadelphia to see the sights.
There's never a shortage of autumnal activities in Philly — from the many Oktoberfest celebrations to boutique beer gardens that are truly hidden gems.
Oktoberfest celebrations
Philly has a rich tradition of embracing the Bavarian style of merrymaking. You'll find numerous Oktoberfest celebrations throughout the city. Some of them have already come and gone, such as the beloved Cannstatter Volksfest, which is the country's oldest Oktoberfest (held since 1873), and the biggest Oktoberfest celebration, Brauhaus Schmitz's Oktoberfest. But there's more to come!
Stop by the Elmwood Park Zoo for a unique Oktoberfest experience held alongside zoo animals. If partying like an animal appeals to you, set aside September 24 on your calendar. For a more traditional German Oktoberfest experience, stop by the Alla Spina OktoberFest on September 23, 24, and 25. Friday features the Stein Hoist Competition.
Shacktoberfest at Shake Shack lets you pair your favorite brew with a selection of tasty Bavarian treats. This fest, which extends from September 23 through October 2, takes place at all area Shake Shacks. Try specials like the brat burger, Bavarian-style soft pretzels, and Apfelstrudel shakes.
Revolutionary Germantown Festival & Grumblefest
If you're in Philly on October 1, you can't miss the Revolutionary Germantown Festival. It's a day-long celebration of American history, the highlight of which is a reenactment of the Battle of Germantown. Live music, food, and drink are all available on Germantown Ave., but the festival spills over to other historic sites like The Germantown White House, Concord School & Upper Burying Ground, and Grumblethorpe.
After the reenactment, follow the crowd to Grumblethorpe for Grumblefest, which is another Oktoberfest-style celebration featuring beer, food, and live music. Grumblethorpe is the historic house of John Wister. North America's oldest gingko biloba tree still stands in its garden.
Must-try beer gardens
The end of summer doesn't have to signal the end of al fresco beers. Philly is chockfull of old favorites and new pop-ups to try. Traditionalists should head over to Frankford Hall for a generous helping of draft beer served in an authentic stein. Those who are thirsty for local brews can check out Spruce Street Harbor Park on the Delaware River. If you've ever wanted to sip a frosty brew while reclining on a hammock over the river, Spruce Street is the beer garden for you. Not quite sure what you're looking for? Just head over to Fairmount Park. "Parks on Tap" beer gardens will be popping up there through October 2.
Find your dream home in Delaware
For residents of the Wilmington, DE area, Philly is just a hop, skip, and jump away. Whether you commute to Philly for work or enjoy bringing the family there on weekends, you'll have an easy drive when you start from a Montchanin Builders community. Darley Green, Shipley Circle, and the Town of Whitehall feature thoughtfully designed and richly appointed homes nestled within beautiful, neighborly communities.
And there's no need to travel to Philly to access incredible amenities. In Wilmington, residents enjoy fine dining, family friendly attractions, tax-free shopping, and great schools. Tour the move-in ready homes from Montchanin Builders to find the perfect place to raise your family. You can reach our office at 302.655.2600.