U.S. Housing Recovery Continues; DE Custom Homes More Affordable Than Ever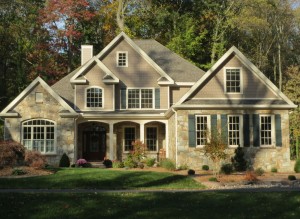 Thanks to a strengthened economy, increasing income levels and stabilized interest rates, America's housing recovery continues at a steady clip. According to data from the National Association of Realtors, residential home purchases jumped 4.9 percent this past May, marking the largest monthly sales gain in nearly three years.
As a wider selection of housing choices become available, the real estate market has become much more balanced, offering prospective buyers more options than ever before. Increasing demand will likely trigger an uptick in residential construction among builders across the nation.
Montchanin's Delaware custom home builders remain optimistic when it comes to the local residential market, as more discerning buyers are taking advantage of the area's luxurious yet affordable properties – both custom-built and move-in ready.
Delaware custom homes make financial sense
Respected for their professionalism and expert craftsmanship, Montchanin Builders understands the importance of homeownership, whether you're planning your retirement years, have just gotten married, or need to accommodate the needs of an ever-expanding family.
Not long ago housing prices were in a constant state of flux, as appreciation values and lending rates vacillated from record-highs to historic lows. Economists and market observers now say that a picture of affordability is here, which is encouraging news for those who are considering a new home in Delaware – one of the nation's most tax-friendly states. Our property taxes are among the lowest in the nation and there's ZERO sales tax!
Tri-state residents already know the myriad perks of Delaware living, including a vibrant nightlife and easy access to family-friendly attractions and historical points of interest. And your very own custom home is the best place from which to enjoy the region's recreational offerings, fabulous shopping and sublime scenery.
Take advantage of affordable new homes in Delaware
At Montchanin, we cater to buyers of all tastes and budgets and serve clients throughout New Castle County including Claymont and Wilmington, as well as the Philadelphia surrounds. Utilizing the latest building techniques, finest materials and energy-efficient options, we offer Delaware custom homes and move-in ready townhomes that are reasonably priced and located in the area's most sought after communities.
We take pride in the fact that our custom-built properties are delivered on-time and within your budget, and we strive to make the entire process smooth and stress-free. Our seasoned designers and project managers are always available to answer queries and make suggestions.
And of course, you can choose from a selection of upscale amenities and finishes to transform your custom house into a home you can be proud of.
Take your property to the next level of style and comfort by adding on:
Custom woodworking and cabinets
Exotic granite countertops
Walk-in closets
A gas fireplace
Hardwood floors
Vaulted ceilings
Gourmet kitchen
French doors
Customized electrical systems
Montchanin Builders custom homes in DE
Delaware has long been ranked among our nation's most desirable places to call home. If you're ready to become a proud home owner in the greater Wilmington area and would like more information on our custom home building services and available properties, please call 302-472-7213 or contact us online. We'll gladly provide a no-obligation consultation.
Resources:
Bloomberg, Sales Pickup Shows Healing U.S. Real Estate Market, http://www.bloomberg.com/news/2014-06-23/sales-of-existing-u-s-homes-rose-more-than-forecast-in-may-1-.html