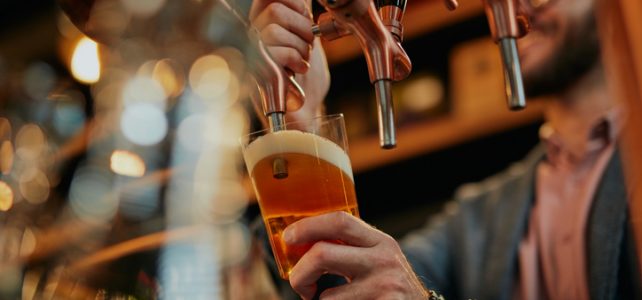 Where Are the Best Breweries Near Kennett Square, PA?
If you've got "Attend an Oktoberfest or other beer festival" on your bucket list, you'll love Kennett Square, PA. But you don't have to wait for a festival to experience the best of what the Pennsylvania brewery scene has to offer. Check out this list of excellent breweries in and around the Kennett Square area and start making plans for your epic beer crawl.
Braeloch Brewing
Braeloch Brewing is a local favorite. You'll find it at 225 Birch Street in Kennett Square. Unlike many smaller craft breweries, Braeloch Brewing has a very spacious taproom with a 75-foot bar that invites large crowds to gather for a good time. The taproom features Braeloch's many craft beer specialties, like the Phanatical Revenge Blood Orange IPA and 33rd Marc Cream Ale. You can enjoy the brews with your group in a booth, at a community table, smaller table, or the living room section.
Braeloch Brewing contracts with a local restaurant to provide food for their guests. You'll find typical bar food like burgers and wings, but also a few surprising finds, like the mushroom flatbread and crispy Brussels sprouts with bacon. The taproom also features live music on the weekends. During the warmer months, you can take your brew outside to the beer garden. And, of course, you can visit the Brewhouse to see how they make their craft beer.
Kennett Brewing Company
Over 12 years of research went into this brewing company's signature craft beer. The founder, Mark Osborne, blended traditional styles of beer with innovative twists to develop unique flavor profiles. Try the Jammy Jammy Bastard, which features a citrus-like edge, the Kennett Saisoneier, which has a dash of ginger, or the Ploughman Porter, which will make you feel as if you're back in Old London. The brews at Kennett Brewing Company are accompanied by a limited menu, and guests can often enjoy live music and other events.
Victory Brewing Company
You will find the Victory Brewing Company at 650 West Cypress Street in Kennett Square. Victory brews unique beers in their seven-barrel brewhouse, which can only be purchased at their onsite taproom. Their brewhouse features an open fermenter and is housed within glass walls, allowing guests in the taproom to see directly into the brewhouse.
Try brews like Storm King (Variant Raspberry), Golden Monkey (Irish Tripel), and the Cosmic Connection Sour IPA. Their food menu is rather unique for a craft brewery, as many food items featured on it are infused with their own craft beer. Sample menu items include the Victory Pretzel with Prima Pils cheese sauce and HopDevil mustard and the Turkey and Avocado sandwich with Twisted Monkey mayo on sourdough. For dessert, enjoy a warm brownie with bourbon caramel, vanilla cream, and spiced walnuts.
Due to COVID-related issues, the Victory Brewing Company may occasionally shut down on a temporary basis. Be sure to check their Facebook page, which has information that is updated more frequently than their website.
Explore new construction homes near Kennett Square
Highly rated breweries like these are just one great reason why Kennett Square, PA, is a popular place to live. It's a charming town that offers plenty of wide-open spaces and opportunities for outdoor recreation, yet it's also close to major amenities and has plenty of dining and entertainment options. It's why Montchanin Builders chose Kennett Square for our newest master-planned community, Kennett Pointe. Get in touch today to schedule a viewing of our beautiful townhomes for sale in Kennett Square or to inquire about our special financing offers.