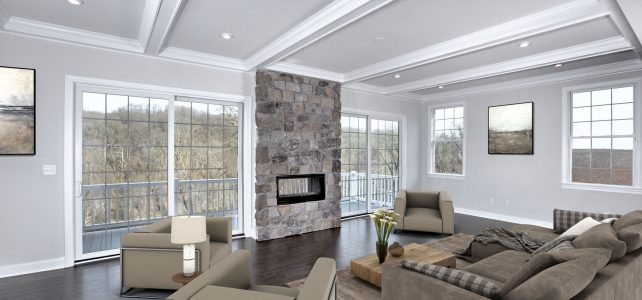 Why Suburban Townhouses Are the New "It" Homes for Buyers
As homebuyers in 2020 adjust to the "new normal" of COVID-19 and social distancing, suburban townhouses are quickly becoming the market's new highly-prized "it" homes. The suburbs provide an attractive alternative to more densely populated urban areas, where transmission risks tend to be higher, and social distancing measures may be stricter. New-construction townhomes in the suburbs are convenient and generally give you more bang for your buck than single-family homes, offering spacious open-floor plans that allow for social distancing in the home. And when you purchase a townhouse at one of Montchanin Builders' walkable communities near Wilmington, DE, you get the best of both worlds – close proximity to all that city life has to offer, including plentiful shopping and dining options, while at the same time surrounding yourself with safe, open green spaces.
Our Townhouses Offer Safety and Security
As the pandemic continues, homebuyers are prioritizing health and wellness like never before. That's one of the reasons why Delaware townhouses are so appealing. While life in high-density urban areas can make it challenging to effectively social distance from others, the townhouse lifestyle is geared toward openness and spaciousness. Instead of living in cramped, close quarters, you will enjoy plenty of safe living space in your new home and the ability to easily and appropriately socially distance from your neighbors when necessary.
Our Townhouses Provide a Gorgeous Setting
It's only natural to want to live in a beautiful neighborhood, and the retreat from urban life offered by our townhouses allows you to do precisely that. As many homebuyers have already discovered for themselves, our townhouses are beautiful, well-designed homes nestled in peaceful communities with plenty of trees. If you're eager to surround yourself with open green spaces, then one of our new construction homes could be the perfect option for you.
Our Townhouses Are Conveniently Located
If you're thinking of moving away from an urban area, then you might be wondering how much more driving you will have to do as a consequence. One of the great benefits of the suburban townhouses offered by Montchanin Builders is their convenient location. These new construction homes are located close to Wilmington, Delaware, which means that you'll easily be able to access grocery stores and other essential amenities. Enjoy the benefits of living near a major city without any of the drawbacks of living in a high-density region.
Find Your New Home with Montchanin Builders
Are you ready to discover the home of your dreams? Montchanin Builders is here to help you make it happen. If you have been searching for the right townhouse, you owe it to yourself to take a look at our new construction homes in New Castle County, Delaware.
We will be happy to provide you with a tour of our luxury homes. We are taking all essential precautions to keep our guests safe, including social distancing and use of protective face masks. We will also be happy to discuss your financing options with you. Don't hesitate to schedule a viewing today!
Additional resources:
The Washington Post, Buyer interest in suburban over city living grows in May, report finds, https://www.washingtonpost.com/business/2020/07/09/gap-widens-may-between-buyer-interest-suburbs-city-report-finds/
MarketWatch, Mortgage applications for suburban homes are surging as buyers try to escape the coronavirus pandemic, https://www.marketwatch.com/story/mortgage-applications-for-suburban-homes-are-surging-as-buyers-try-to-escape-the-coronavirus-pandemic-2020-07-31