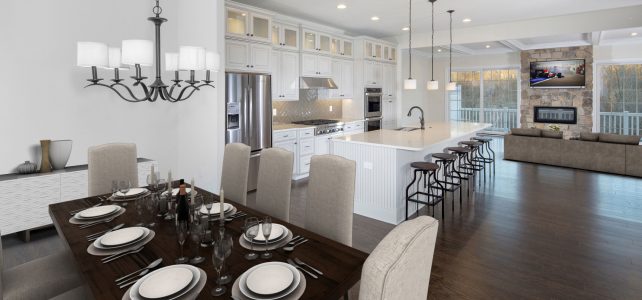 Why Townhomes Are So Big Right Now
Townhomes represent the fastest-growing segment of the new construction market, accounting for 14% of new homes built in 2018. Homebuyers appreciate the open layouts, proximity to amenities, balance between community and privacy, and affordability townhomes offer.
Layout
When you choose a luxury, new-construction townhome from Montchanin Builders at their master-planned community of Darley Green, you can enjoy desirable features such as:
Spacious open floor plans
Flexible floor plans with options for libraries or recreation rooms
Gourmet kitchens with breakfast nooks
Walk-in closets
A combination of full and half-baths
Find townhomes with up to 2,500 square feet of living space and one to two-car garages. At Darley Green, the "wow factor" is real, and you'll truly be impressed with the luxurious detailing of these high-end homes.
Proximity
Many homebuyers choose townhomes due to their proximity to:
Employers
Retail shopping
Entertainment
Public transportation
The close proximity to neighbors promotes a small-town feeling and a sense of community. At Darley Green, you can live, work, and play all in one space, as restaurants, shops, outdoor recreation, and public transportation are all within walking distance.
Balance
Townhomes offer privacy and are conducive to social distancing in the COVID-19 era.
Private entrances – decrease the amount of contact with others during social distancing periods.
Green spaces – walkable communities provide safe open-air access to mood-boosting greenery.
Multi-floor living – with up to four floors of living space, multiple family members can work or learn from home without interruption.
These and other community-oriented perks add to the value of the townhome lifestyle. In short, buyers love the balance; townhomes offer a suburban feel with more walkability.
Affordability
Townhomes offer space, convenience, and luxury – while being more affordable on average than detached single-family residences. Affordability appeals to all homebuyers, whether they are purchasing a first home, moving for a shorter commute, or downsizing. For many, townhomes offer a path to homeownership in a desirable neighborhood without an exorbitant price tag.
If you'd like to learn more about townhome living in Wilmington, Delaware, contact Montchanin Builders to inquire about openings at Darley Green. We are currently scheduling private townhome tours. Be sure to ask about our special financing options! We ask that you wear a mask and respect social distancing measures.