5 Tips For Open Air Kitchen Home Renovation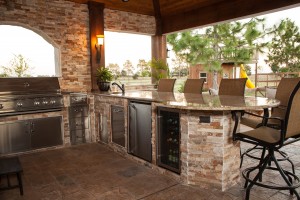 Two decades ago, homeowners started to feel as though they weren't fully maximizing their outdoor space with a simple stand-alone grill set next to an outdoor table set. Beginning in warm locales like California and Arizona, homeowners with beautiful, private backyards began designing more robust outdoor working spaces where they could cook and entertain next to their scenic in-ground pools and gardens.
Today, the trend has spread to East Coast backyards in Pennsylvania and Delaware, where Montchanin Builders helps clients design the backyard space of their dreams.
Our Delaware home addition experts offer the following five tips for a functional and charming open air kitchen design, no matter your budget.
1. Look for low maintenance materials
Being subjected to the elements is what ultimately separates an outdoor kitchen from an indoor cooking space, so material selection should factor prominently in your design. The easier your kitchen is to clean and maintain, the more use you'll get out of your space. Stainless steel is sanitary and corrosion-resistant. Poured concrete is a popular choice for counters and table tops, as it can withstand abuse from rain and sun. Some customers like the look of cultured granite with UV stabilizers as well. Sealed pavers, concrete, or natural stone blocks with low porosity work well for low-maintenance outdoor flooring. Avoid tile, which can crack in Delaware's cold winters, and marble, which can be slippery when wet and easily sullied by grease stains.
2. Choose an architectural focal point
As with interior design, the best open air kitchen remodels have a focal point that draws the eyes of onlookers, with the rest of the area framed around that centerpiece. For some outdoor spaces, this anchor could be a fireplace, a wood-fired pizza oven, a weather-resistant flat-screen TV, or a pool-side bar. We always like spaces that are open and airy, but still private – with tall outdoor draperies, a pergola with chandelier lighting or outdoor sconces, or floral arbors. We can help you select similar design aesthetics from your interior to bring into your exterior kitchen space for a cohesive look and blend your entertainment area with other structures like ponds, pools, gardens or children's playsets for seamless integration.
3. Keep the cook involved in the party
Like open concept kitchens that are so popular in modern homes these days, the ideal backyard kitchen makes it easy for cooks to interact with guests, without everyone tripping over each other. Some homeowners place a water tap or beer kegerator at the end of their bars to encourage people to stop by the kitchen. Others design their kitchens with a bar top connected to the cutting and prep area, which keeps guests close by and allows helpers to join in the cooking.
4. Build in storage space
As Better Homes and Gardens points out, storage space is crucial for designing an outdoor kitchen that satisfies. Stainless steel cabinets are a popular choice, although powder-coated metal cabinets are rising in popularity due to their durability and color choices that include a natural wood look. Rot-resistant redwood works if you're bent on using truly natural materials.
You'll want to consider tucked-away storage space for:
Trash and recycling bins
Napkins and cleaning supplies
Glasses
Grilling tools
Utensils
Plates
Serving platters
Smokers or charcoal grills
Woodpile for the pizza oven or fire pit
Charcoal and lighters
If you're a green thumb, add a stand for storing herbs, tomatoes, peppers and fresh-grown produce.
5. Incorporate features that extend your outdoor entertaining season
Outdoor kitchen remodeling in Delaware is aimed at adding spaces you can use well into the night and for grilling steaks even on a chilly November evening. We often incorporate rain shelters, wind-blocking walls and task lighting into our designs. For added warmth, you can opt for a natural gas heater, portable propane heater, heat lamps, fire pit, fireplace, or radiant heat beneath the patio and countertops. To cool you down on those muggy summer days, consider an overhead fan, mist sprays, shade trees, and umbrellas. Mosquito netting or a mechanical mosquito repellant device are also something to consider. Look into outdoor lighting options for the countertops, walkways, staircases, grilling and dining areas.
Partner with Delaware home addition experts
The home addition experts from Montchanin Builders offer high-quality craftsmanship and professional design assistance of the top caliber. Whether you have pictures of your ideal kitchen and know precisely what you want or you only have a vague idea of an outdoor entertainment space, we can help you plan every detail from start to finish. Call 302-655-2600 to set up a free consultation regarding outdoor kitchen remodel in Delaware.