Delaware Kitchen Remodeling Ideas from Montchanin Builders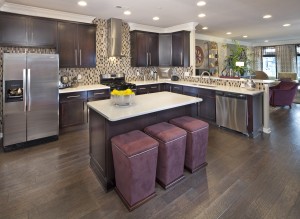 For ardent foliage hunters, autumn in Delaware ranks among the best in the Northeast for sheer fall spectacle. But by November, the days are shorter, the leaves have all but dropped, and Thanksgiving in the Brandywine Valley region marks the beginning of winter. The first Thanksgiving, a three day feast, was a coming together of families and friends to give thanks for their first bountiful harvest in their new land.
Thanksgiving hasn't changed much in spirit since then. In warm, cozy kitchens across the country, a feast is prepared to give thanks for our many blessings.  But for many homeowners, it's a time where we dream of preparing our Thanksgiving dinner for family and friends in a glorious well-appointed kitchen.
If that sounds like you, you're not alone. Some 40% of homeowners plan to undertake a major home renovation—like a kitchen remodeling– this year. Stop by the offices of the master designers and craftsmen of Montchanin Builders to take a look at the plans and photos of some of their outstanding Delaware kitchen remodeling jobs.
Delaware kitchen remodeling sees a new twist for 2015
One of the most significant style trends for 2015 according to a survey of top home designers and builders is the disappearance of the traditional living room and dining room. John Petrie, the 2014 president of the National Kitchen and Bath Association says, "Walls are going to continue to come down".
What's replacing the traditional layout is a beautiful and highly functional large great room/kitchen working as the new activity center and connected "soul" of the home. Let Montchanin Builders show you various Delaware kitchen remodeling options that can incorporate the great room concept into your current home.
New townhomes in Delaware are "move right in" solutions
If your dream is to celebrate the holidays in a brand new condo or townhomes in Delaware, then be sure to visit Darley Green, Montchanin Builders' delightful master planned community in Wilmington. Built in the classic style of a small town but with a modern twist, gorgeous yet affordable townhomes are set back along peaceful tree-lined streets. These move-in ready homes feature up to three bedrooms, two and half bath multi-level living plans with nine foot ceilings, and top kitchen appliance packages and features.
Darley Green is for the homeowner who wants maintenance free luxury living in a small town atmosphere complete with jogging trails, charming shops, and a village green — all just 20 minutes from Philadelphia and 5 minutes from downtown Wilmington.
Montchanin Builders has just the right option for you
So whether your dream is the fabulous remodeled kitchen you've always wanted or a brand new condo or townhome, Montchanin Builders has an exciting option that's just right for you. Let us help you tailor your home to fit the lifestyle you are ready to enjoy, whether you are looking to renovate your existing home, build a custom designed dream house, or move into a brand new townhome.
Learn more about Darley Green's amazing features and amenities by calling 302-472-7213.