Philadelphia Real Estate Market Booming – Price Points Go Up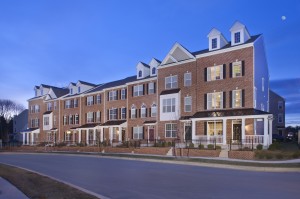 All signs are pointing to another banner year for residential real estate in the Philadelphia region, according to a recent report by Berkshire Hathaway Home Services Fox & Roach. Low interest rates coupled with an increasingly robust economy means more people are snapping up properties with favorable mortgage terms.
Research shows that houses aren't staying on the market nearly as long as they were just a couple of years ago. Philadelphia properties took an average of 78 days to sell last year, down from 98 days in 2012. The report also shows a rise in median sales prices across several counties, with Chester County the highest of them all with an average selling price of $305,000.
The HomeExpert report also reveals dwindling inventory compared to last year, leaving some homebuyers with little choice.
New homes near Philadelphia at Darley Green
With price points slowly creeping upward and less selection from which to choose, lots of people are beginning to hunt for their dream home in nearby markets, where $225,000 goes so much further in the way of space, comfort and curbside appeal. In reality, most new homes near Philadelphia are not only more affordable, they're more luxurious.
There is perhaps no greater example of this in the Tri-State region than the master-planned community of Darley Green, where move-in ready homes feature tons of upscale touches, like gourmet kitchens with gas ranges, luxury master baths, 17-foot ceilings and built-in services like professional landscaping. You'd be hard-pressed to find a 2,500 square foot Philadelphia townhome with these perks at such a low price.
Darley Green's central address in Delaware's Claymont Renaissance District, just a 20-minute drive from Philly, ensures you won't be sacrificing on location. On the contrary, homeowners are thrilled with the convenience of quick access to major thoroughfares I-495, I-95 and the Philadelphia Pike. Residents who commute daily can also rely on the SEPTA R2 line, the Amtrak Station and the Claymont commuter train – all just a few minutes away.
According to Darley Green homeowners, it isn't just the location or amenities that make this neighborhood so special: it's the family-like feel of a tight-knit community that truly cares for its residents. Neighbors can enjoy an afternoon jog on manicured trails, kids can play outside under the shade of trees, and friends can chat over coffee at one of the many onsite restaurants and eateries.
And being so close to the revitalized Wilmington Riverfront ensures plenty of entertainment and recreation for the young and young-at-heart, with excellent dining and nightlife, plus kid-friendly activities.  The city is also renowned for its vibrant arts and culture, including local theater companies that present main stage productions throughout the year.
Looking for peace and comfort? Explore Delaware living!
To learn more about the many benefits of homeownership at Darley Green, please give us a call to schedule a home tour today. You can reach our Information Center at 302.655.2600, or swing by any time between 11 am and 5pm to explore your potential new home in Delaware.
Resources:
BizJournals.com, Philadelphia-area homes selling at fastest pace in three years, http://www.bizjournals.com/philadelphia/blog/real-estate/2015/02/philadelphia-area-homes-selling-at-fastest-pacein.html